I played through the first two
Mass Effect
s as a Broshep, which I've been led to believe was
a terrible mistake
. So a few weeks ago—thanks to a combination of brokeness, still being lost in
Skyrim
, having forgotten the details about
why exactly I was fighting a giant blue skeleton in Mass Effect 2
, and my interest in seeing what
Mass Effect
is like with a Femshep at the
Normandy
's helm—I decided I'd wait to play
Mass Effect 3
until I'd had the time to replay
Mass Effect
and
Mass Effect 2
.
Which seemed perfectly reasonable—even enjoyable!—at the time, but now every single person on my Twitter feed is talking about Mass Effect 3 and io9's telling me weird crap like "The game's developers spend a lot of time looking at Mass Effect fan art on Deviant Art" and there's like a Reaper invasion of Los Angeles happening this very minute and it is the worst.
So if all of you could just shut up about Mass Effect 3 for a while, that would be great and would make my life easier. Thanks.
Sponsored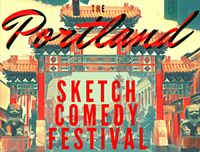 Sketch comedy troupes from all over N. America descend on The Siren Theater for 3 glorious nights.