Last night, a group of 30 to 40 Portlanders met with candles underneath the Morrison Bridge on SE 2nd Ave, the very spot where an anonymous driver shot at two sleeping homeless men last month. Their purpose: to shine a light on the dangers of living on the street and the importance of each person's life — whether they sleep on the sidewalk or in a bed. The small gathering elicited brief speeches (backed by the hum of overhead traffic) from a range of concerned attendees, including members of Right 2 Dream 2/Right 2 Survive, local neighborhood associations, Sisters of the Road and a PSU human rights advocacy group.
"This circle represents community strength," said Anne Trudeau of Right 2 Survive. "It includes the people who aren't here tonight that are sleeping under bridges or teetering on the edge of losing their home."
A member of the Buckman Neighborhood Association said that a recent meeting triggered an initiative to find and designate safe spots in the area for the houseless to sleep. Another attendee mentioned the importance of taking these issues to city council and the board of commissioners. "The squeaky wheel gets the oil," he said.
The 30-minute gathering ended with a moment of silence for Carter Hickman and Albert Dean, the two attacked homeless men. A member of Right 2 Survive added that while Hickman remains in the hospital, Dean is currently "missing."
"Crimes like this bring a lot of fear to a community," said Trudeau. "We wanted to bring hope and love through this peaceful ceremony."
Sponsored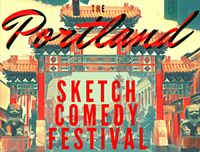 Sketch comedy troupes from all over N. America descend on The Siren Theater for 3 glorious nights.