On her Facebook wall, Sarah Palin said:
I'm willing and free to discuss these issues with the President anywhere, anytime; and I'm sure any of the four patriots currently running for the GOP nomination would also welcome the opportunity to talk about the problems everyday Americans face due to the abject failure of our current administration's policies.
And you know what? I think President Obama ought to take her up on it. Why not? I've been waiting for a Sarah Palin/Barack Obama debate since 2008. I'm sure many would argue that taking up an ordinary citizen on a debate would be beneath the office of the president, but I think the office of the president would surely withstand a little free-form conversation on live TV. It would shut Palin up for a while. And as an added bonus, it would undermine Mitt Romney by making Sarah Palin look like the head of the Republican Party. I don't see a downside to this.
Sponsored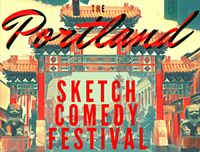 Sketch comedy troupes from all over N. America descend on The Siren Theater for 3 glorious nights.