Meanwhile, in rich-people world, a pair of Marie Antoinette's shoes, circa 1790, were auctioned off in Toulon, France recently. Guess how much they went for. No, guess.

Hôtel des ventes de Toulon
To be fair, they are still pretty cute.
Okay, got your guess? Answer is after the cut.
$57,336
Now go back to your unprofitable life, sucker.
Sponsored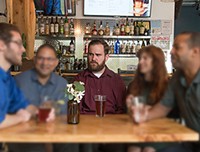 Adults aged 18-35 with good hearing will be paid for their time. Located at the Portland VA Medical Center