As long as there's money to be made, this guy just will not die.
Like the headline says, this morning Microsoft officially announced the release date for 343 Industries' Halo 4.
We still don't know much about the game's plot or what it will add in terms of new gameplay concepts, but expect aliens, guns and oversized military vehicles with the handling characteristics of RC racers.
Strangely, tonight's episode of Conan features a segment trumpeting the announcement, because apparently simply telling the gaming media about this sort of thing is passé. Or maybe TBS is the network of choice for trigger happy teenagers. Who the hell knows?
Sponsored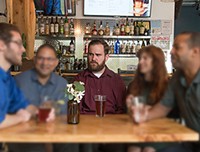 Adults aged 18-35 with good hearing will be paid for their time. Located at the Portland VA Medical Center