Seattle supporters sing a pregame song for Timbers Army.
During a conference call with reporters this week, Portland coach John Spencer was asked about the last time the Timbers took to their home pitch. Not wanting to rehash what was perhaps Soccer City USA's low point as a Major League franchise—a shocking 1-0 loss to fifth-tier amateur side Cal FC—the embattled coach recoiled.
Sponsored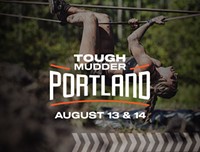 Lock in your summer adventure, Portland. Join us for world famous obstacles over a 5K or 10K distance.
"I thought we were here to talk about Seattle," Spencer snapped.
You can't blame the man for wanting to focus on today's 2 p.m. match against the hated Sounders, but with the Timbers underachieving, the question becomes how far forward can Spencer expect to look? Much of the talk leading up to the 77th playing of North American soccer's biggest rivalry hasn't been about mutual malevolence or bulletin board material or historical implications. Instead—at least locally—today's ESPN-televised Cascadia Cup clash is being framed as a referendum on Spencer.
That's probably a bit overzealous, but there's no arguing PTFC's second-year coach is feeling a bit of warmth beneath his seat.
If the Sounders are floundering below expectations—they're winless in six straight—then Portland is playing below acceptability for many of its fans. And because shit has a funny way of running uphill in professional sports (and because Spencer has all but welcomed the criticism by insisting he has the talent he needs to win) the onus today is on the players to prove they'd like to keep their skipper around.
My sense is Timbers fans could handle losing, even to their fiercest rival. But just as Timbers Army pledges to scream its collective lungs out for 90 minutes, supporters expect nothing less than an unrelenting effort from the players on the pitch.
The alternative could make focusing on the future an unsteady proposition.
UPDATE: Portland defeats Seattle 2-1 behind first-half goals from Kris Boyd and David Horst and physical defense late. It's the first Timbers victory against the rival Sounders in Portland's MLS era, sending Timbers Army home singing a happy tune for the first time in more than two months. Click past the jump for minute-by-minute action, plus post-game reaction and full video of Spencer's post-match presser.
PREGAME: Sounders fans have their own concession stand tucked behind a plastic barricade near Section 220. Walking in, a beer vendor was shouting "Who wants an expensive beer?" as rave-green-clad Seattleites (600 traveled south in 10 buses) milled about. Their section in the Southwest corner of the stadium is packed, and the singing of "Build a Bonfire" was in full swing as I first caught sight of the freshly striped House of Pane pitch.
On the North End, fans quickly rushed into their standing positions as 22 ropes hang vertically in front of them. It's undoubtedly part of some sort of tifo display, which are always the visual icing on a derby's cake. Can't wait to see what TA has in store.
Speaking of, now both ends have sung "Build a Bonfire." At least TA and ECS can agree on one thing: Vancouver goes in the middle.
STARTING XIs:
Seattle—Andrew Weber in goal. Jeff Parke, Zach Scott, Jhon Kennedy Hurtado and Marc Burch on defense. Mauro Rosales, Osvaldo Alonso, Brad Evans and Alex Caskey at midfield. Fredy Montero and Eddie Johnson up front.
Portland—Troy Perkins in goal. Jack Jewsbury, Futty Danso, David Horst and Steven Smith on defense. Kalif Alhassan, Diego Chará, Darlington Nagbe and Franck Songo'o at midfield. Mike Fucito and Kris Boyd up front. Fucito gets his first start against his former club as newly acquired Danny Mwanga nurses an injury and Futty steps in for the suspended Hanyer Mosquera.
Timbers Army unveils a massive, North-End-wide tifo display as the anthem ends. It reads: "Legends are born when the previous are surpassed" with an image of Portland legend Clive Charles and a Portland skyline within a city flag. Epic stuff.
FIRST HALF: And away we go ... Timbers in green, Sounders in some sort of blue.
2nd minute—Seattle a bit sloppy at the start and the Timbers are on the attack. Alhassan takes pass from Fucito and fires from just outside the box, but it's well high.
3rd—On the counter, Montero fires a low skidder toward Perkins, but Futty knocks it over the line. First corner of the afternoon goes Seattle's away. They send it in near-post, but Portland clears.
5th—Intense, physical play so far, which is exactly what you'd expect in a game like this. Portland earns a corner and Songo'o sends it in near-post. It's headed out, and after Nagbe knocks it into the area, Seattle clears. But not without a bunch of pushing and shoving. Expect this one to get plenty chippy.
9th—Fucito takes a shot from distance, but Weber is all over it.
10th—Long ball played ahead for Johnson and Horst recovers from being out of position to make a nice defensive play. Portland clears and gets it ahead to the speedy Fucito, who earns a corner kick.
11th—Songo'o drives it to the top of the box and Horst gets a solid header on it, but it hits solid crossbar. Jewsbury gets the rebound and shoots, but it's wide left. Great chance for Portland, who was inches away from being up a goal in the early going.
13th—Smith with a nice run and ball to Songo'o along the west sideline, but Franck's cross is low and easily cleared. Timbers earn a corner, but Seattle nabs possession back after a flurry of activity in its own end. Timbers are the aggressor in the opening minutes.
15th—Chará finds Alhassan in the Northeast corner, and he sends a low cross into the box, but it's cleared.
16th—TIMBERS GOAL Smith finds Boyd alone in front of the net and the Scottish striker hammers it home to give Portland a 1-0 lead. Two pals from Scotland who were each married over the International break connect to send this crowd into a frenzy.
18th—Timbers get it forward again with numbers and Jewsbury pokes it ahead to Alhassan. He shoots one into the box, but it's wide right. Timbers continuing to attack and Evans picks up the first yellow of the afternoon.
20th—Smith with a nice tackle at midfield on Evans, but behind the play, Horst is called for a foul. Free kick for Seattle right in the middle of the circle. It's sent into the box, but Scott heads it over the line. Goal kick, Portland.
21st—Alhassan with a half-dozen stepovers while running into the box. Fancy! He sends a lofting cross in the direction of Songo'o, but the midfielder cuts inside as the ball sails toward the far post. Miscommunication there, and all that dancing for nothing.
24th—After Nagbe is knocked down from behind, Seattle takes it forward with an advantage and find Johnson. He sends one on-goal, but Perkins is there to knock it down and nab it.
24th—Alhassan finds Boyd wiiiiiide open in front once again. His header is saved by Weber, who knocks it over the bar for a Timbers corner. Boyd really smelled a second one there.
25th—TIMBERS GOAL It's Horst in front with a header. Songo'o finds Horst in nearly the same spot the defender slammed the crossbar from earlier, but this time Horst has his goal. It's 2-0 Portland, a phrase that hasn't been uttered in ... uh, a long while.
27th—Futty and Montero exchanging some pleasantries as green smoke covers the North End.
28th—Fucito takes a knock at midfield and here come the medical staff. He's on his feet, and word is he has some blood on the back of his head that needs to be cleaned up.
30th—Alhassan with some fancy footwork along the east sideline. A big ovation for the flash of footy skill.
32nd—Timbers with a free kick from 25 yards out from the right corner of the box. Songo'o drives it in, but Weber rises up to grab it. Underneath, guys are flat-out wrestling for position. A very physical match in the first half, and neither side is backing down.
35th—Smith tries to usher one over the goal line, but Rosales forces him into a touch and a conceded corner kick. Rosales sends it in and Parke gets a crack on it, but it's right at Perkins.
38th—Johnson tries to get into the box with it, but Horst uses his big frame to shepherd the ball over the line and Johnson to the ground. Horst then turns and yells something toward Johnson. It didn't look like it was complimentary.
39th—Burch sends a long cross in far post and Caskey gets a header on it, but Perkins is there to grab it. Momentum inching toward the Sounders now.
42nd—As we wait for a free kick, Seattle sends Patrick Ianni in for Parke. He comes into the match and immediately starts pushing and shoving in the box. Jewsbury and Futty don't like it, and the fans are egging them all on. Great stuff.
44th—Timbers free kick is headed away. On the counter, Alonso cracks a shot, but it's just wide. Chará is shown a yellow card for a hard tackle.
45th—Sounders with a corner kick, but it's immediately cleared. Another long cross comes in, but Montero can't find a handle.
Two minutes of stoppage ... Fucito zooms past Scott and makes a long run, but Alonso catches up to him and knocks it away. ... Sounders send one in and Jewsbury knocks it away. Alonso lines one up from 45 yards out, and Perkins with a leaping save to tip it over the crossbar. Corner sent in and bounces around a bit, but Portland clears.
HALFTIME: Portland leads 2-0. Songo'o and Montero exchange a few shoves as the teams head off the pitch. A dream first half for Portland, which scores twice in 10 minutes to take a commanding lead. It's been physical, fast-paced match worthy of the rivalry so far—can Portland hang on and earn its first win over Seattle as an MLS side?
Some stats: Portland out-shot Seattle 7-6, but the Sounders had five corners to the Timbers' three. Seattle maintained possession 53% of the time and has won 63.3% of duels. Nine fouls for the Sounders, four for Portland.
SECOND HALF: And we're back at it ... Andy Rose enters the match for Brad Evans.
46th—Sounders coach Sigi Schmid must've given Seattle the business at halftime, because the Sounders have come out of the locker room like a house on fire.
48th—Alhassan taken down in Portland's end and he's lying spread-eagle on the pitch. Alonso shown a yellow card, and that brings Kalif back to his feet. Miraculous!
50th—A quick restart off a Seattle free kick is intercepted by Alhassan. He runs to the top of the box and comes up lame, hopping his right leg. He goes down it's not looking good for Kalif. Boyd calling for the medical staff as Alhassan—who's been battling a knee injury all season—is helped off. Timbers down a man for a moment.
52nd—Smith sends a long ball into the box for Boyd, but he's well offside. Burch fires one from distance and Perkins skies for the tip save. Alhassan again goes down near the top of the box and Horst is pushing Ianni away from the outstretched Alhassan. Kalif gets a yellow card for time wasting, but he's taken out of the match as Sal Zizzo runs on.
53nd—A weird opening 10 minutes here, with lots of stops and starts. That has to favor Portland, which has broken Seattle's early momentum a bit. Songo'o again pushing and shoving a bit with Montero, and we're finally back to action as Seattle sends a free kick into the box. They get a look, but not before a foul is called and Portland earns the goal kick.
56th—Timbers on the counter, led by Songo'o. He finds Fucito streaking down the wing, but Fucito's attempted cross is knocked away.
58th—Zizzo with a nice run down the West sideline and sends a cross into Songo'o, but his touch is a bit too strong. Seattle clears for a moment, but Jewsbury gets to it first and finds Fucito in front. His shot, however, is high. On the counter, Johnson makes his way into the box and it's a SOUNDERS GOAL. Johnson gets way too much space to work and cracks a lovely strike past an outstretched Perkins. It's 2-1 Portland, but the Sounders look like a team possessed at the moment.
61st—Sounders with another corner, but Zizzo is there to break it up. On the counter, Songo'o leads a 3-on-2 break and finds Fucito, who has a small window but can't control it. Good opportunity on the counter there for Portland, and this is shaping up to be a frantic final 30 minutes.
63rd—Timbers trying to be a bit more deliberate with their offense, which this half has solely consisted of counter opportunities. Seattle clears to the circle and Horst is called for a foul on Johnson. Futty doesn't like it one bit, but the free kick from a dangerous spot turns out to be harmless as Burch sends a ball to nobody in particular and Perkins picks it up.
65th—Danny Mwanga enters the game for Mike Fucito. The Jefferson High School and Oregon State star is making his home debut as a banner on the main capo stand reads: "Welcome home Danny!!"
65th—Mwanga nearly nets one! Smith with a great ball right in front of the net, but Mwanga misses it completely. Smith couldn't have set up Mwanga any more on that one, and a missed opportunity to restore a two-goal lead.
68th—Montero is fouled by Songo'o about 25 yards out, and the fans hate the call. Dangerous free kick coming.
69th—Rosales sends it in, but Perkins is there to punch it away. Timbers can't quite clear it and Seattle sends it into the box once again as Portland clears over the line. Another corner coming.
70th—Rosales sends in the corner, but Perkins is there to grab it.
71st—Zizzo with a nice run down the West side and earns a corner kick for Portland. Songo'o lining it up.
72nd—Horst again gets a header on the corner (is nobody marking the big fella today?) but it's high and wide. Goal kick Seattle. On the other end, Smith is called for a foul and shown a yellow card about 25 yards out, in nearly the same spot as a few minutes back. Another dangerous chance here for Seattle.
74th—Montero shoots one on-frame, but Perkins is there to grab it. Easy pickings for the veteran keeper. A bit of gamesmanship as Perkins and Johnson stare each other down in Portland's box. Perkins happy to let time tick off.
75th—For Seattle, Cordell Cato enters for Caskey. Timbers have a free kick from 45 yards out after Nagbe is fouled. They take it, but Montero is called for a handball (or foul?), and it'll be another free kick—this one from 35 yards out—for Portland.
76th—Boyd sends it in low and screaming, and Scott nearly re-directs it into his own goal. Weber is there to tip it over the bar and Portland will have a corner after nearly having a goal. Songo'o corner comes in, but it's well over the pack.
78th—Chará with some great defensive work on Alonso, but he's finally called for a foul about 35 yards out. Songo'o is holding the ball and Montero gives him a shove. Sounders send the free kick into the box and it's knocked around a bit, but eventually cleared.
79th—Lovel Palmer enters for Songo'o.
80th—Attendance (as expected) is 20,438—a sellout.
82nd—Smith is down for a moment and Rosales wants to throw it in. Sounders give it back to Portland, but they're happy to play it long and take some time off the clock.
83rd—Sounders with some possession in Portland's end, and the Timbers just keep clearing it. A bit premature for PTFC to not at least try to maintain some possession? We'll see.
84th—Zizzo fouls Montero about 30 yards out. Montero stands up immediately and tries to catch Perkins off-guard, but his shot is easily gobbled up.
85th—Timbers with a bit of possession and it eventually gets to Jewsbury, but he gets under his attempted cross and Seattle will have a goal kick.
87th—Rosales fires one from distance, but it curls just over the crossbar.
89th—Zizzo is fouled 35 yards out in front of the Seattle bench and things are getting chippy. Zizzo and Alonso chatting and pointing fingers, while the referee and Montero get into it. Jewsbury called for a yellow card for wasting time.
90th—Lots of pushing and shoving inside midfield and Montero is called for a red card. Futty and Johnson are throwing shoves back and forth and now Palmer gets a red card. The MLS disciplinary committee may not like it, but the fans are loving this stuff.
Six minutes of stoppage ... Sounders on the attack after Boyd is called for a foul at midfield. Seattle sends one into the box and both teams are literally wrestling for position. Ianni is called for a foul as he rides Nagbe to the pitch. ... Free kick from Seattle sent in and Johnson gets a head on it, but it's high and wide. Futty lets out a big Tiger Woods-like fist pump and the crowd is going wild. ... Zizzo battles through traffic but it's taken away. Sounders get a cross in from the Northwest end, and it's headed by Rose, but Perkins is there for the save.
FULL TIME: Timbers win 2-1. Portland strikes early and holds it together late to defeat Seattle for the first time in its MLS era. A huge win for a team that seemed to be reeling heading into this one.
Final stats: Seattle out-shot Portland 15-13, with six shots on target to the Timbers' three. Two of those strikes came in stoppage time, while Portland was held without a shot for the final 10 minutes. Seattle possessed 56% of the match and won 54% of the duels while out-fouling the Timbers 23-15. But nobody can say Portland got shoved around on its home pitch.
Today, when the Sounders pushed, Portland pushed back.
"Those moments in a rivalry game are to be expected," said Jewsbury, speaking in particular about Montero's straight-red-earning push of Horst. "I don't know if you could've said a year ago that we would've had that same reaction. It's great to see the way this team has grown, not only in the locker room, but on the field as well."
Horst had similar thoughts.
"Montero pushed me on the ground and the whole team stepped up for me," he said. "I think that, right there, shows how close we are as a team.
"Guys have everybody's back."
That includes their coach, and Spencer made it very clear after the match that he has his player's ears ... and perhaps much more.
"There's been a lot of things wrote this week, a lot of things said," Spencer said during a somewhat defiant presser. "For me, actions speak louder than words. When you tell me that players are not playing for me—I didn't see anybody not playing for me today."
Horst said the team rallied around the criticism Spencer had been getting because they owed it to him.
"He's been under fire," Horst said. "He's had, from Day 1, belief in all of us. It's great to be able to return that to him today and hopefully get some people off his back."
Boyd's felt a bit of that pressure, too, and spoke as if he'd exorcised his critics for the time being after scoring the game's opening strike.
"We came in knowing we needed to get the three points," Boyd said. "That was the most important thing to get the fans back on our side and get everybody off our backs and prove to people that we can play. We grinded out a great result."
And in many ways, they did it for Spencer, who capped off his most tumultuous week as Timbers coach with his biggest win.
"I took my hat off to them in the locker room," Spencer said. "I said, 'It's not about tactics, not about coaching. Just sheer hard work and determination."
Spencer's full post-match presser:

Tifo rising: