This weekend, USA Today gave Portland its classic USA Today take, meaning a well-known, absolutely unsurprising narrative run roughly three years too late.* The story In Portland, Ore, Bikes Rule the Road is a "Gee whiz, guys! People bicycling to work!" perspective on the city and just to reiterate the outside world's view of Portland, look at the first person the story quotes:
Even kids get around differently. Nationally, only 13% of children walk or bike to school, according to the National Household Travel Survey. Here, 31% do, in part because of a program that gives every public school student between fourth and 10th grade a 12-week course on how to ride a bicycle safely.

For Tree Marie WoodSmith, the evolution here has already made "life so incredibly easier." She and her husband moved to Portland from rural California where "to go anywhere you had to get into your car." Portland is the opposite, she says. Now WoodSmith can go "days on end and never even get in a car. It was pretty amazing."
*Did you guys know USA Today is the second-most read newspaper in America? Ugh.
Sponsored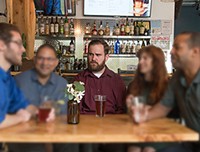 Adults aged 18-35 with good hearing will be paid for their time. Located at the Portland VA Medical Center