Head over to Gizmodo for the heads up on how Scientology's PR department made Saturday's big, secretive event look like a massive success—with the help of computer magic! Poorly used computer magic!
Meanwhile, Mercury pal Tim Nelson checked out the scene on Saturday. His tweets are worth a read. I hope he eventually got to Silverado.
Sponsored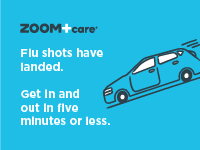 ZOOM+Care makes flu shots easy and safe. Schedule ahead, skip the line—get in and out in 5 minutes.