PortlandMaps.com
No room at Towne Storage for artists
The Towne Storage Buidldng in the Central Eastside Industrial District—a five-story building that's been a longtime home to artists, photographers, architects, and other small businesses—has sold and is being gutted for renovation, which means yet another building-wide eviction for Portland.
XRAY.fm this morning first tweeted the news and Josh Sturgis, operations manager at Towne Storage, confirmed that an investment company based in California purchased the building. The new owners have served the 52 business tenants and 180 renters with mini storage units in the building with eviction notices to get out by the end of October.
Evicting entire buildings full of tenants has become a thing in Portland as owners rush to take advantage of tight vacancy rates and the potential for increasing rents. The Towne Storage eviction situation is just one of many in Portland during what the Community Alliance of Tenants (CAT) is calling "A Summer of Evictions."
In fact, things have gotten so bad for renters in Portland that CAT has declared a "Renter State of Emergency," and at 6 pm on Tuesday, Sept 15 the organization will hold a press conference at Peninsula Park, 700 N Rosa Parks Way, to outline their demands for possible local immediate relief measures.
READ MORE AFTER THE JUMP
Peet-Kegler, a design studio that's called the building home since 2006, is one of the businesses that's being booted from Town Storage and has to find a new home. Jenny Mitchel, studio manager at Peet-Kegler, says they've found a place in Northeast Portland. She says they've known for about two months that the sale and resulting eviction was coming, but that it wasn't a surprise.
"Our rent here is super, super cheap, but the building is totally crumbling and falling down," Mitchel says. "This area is really shitty right now and it's blowing up, so I don't think anyone was surprised when the notice came."
Mitchel says the rent in their new space is more expensive than at Towne Storage, but says the eviction and increased rent hasn't been disastrous to the business. That's good news for Peet-Kegler, but isn't always the case for everyone; renters in Portland have reported being unable to find new digs after being kicked out of their homes. Renters need relief, but building owners are reaping the rewards of the real estate boom in Portland. Sturgis says he doesn't know exactly how much the building's former owner (and his boss), George L. Bean, sold the building for, but estimates it's in the range of $10 to $12 million.
"And that's low considering there's a 21-story building going in right next door," Sturgis says.
Portland Commissioner Nick Fish, who serves as City Council's liaison to the Regional Arts and Culture Council, called the current situation in the city an "absolute tragedy" in a Monday phone call to the Mercury.
"We're seeing artists getting priced out of the city every day," Fish says. "And if the people who are driving our local arts community can no longer afford to live here it will have disastrous consequences. As we look to building more affordable housing we have to take our arts community into consideration or we will lose them."
Towne Storage is located at 17 SE 3rd Ave, an area ripe with development right now. The building sits close to Key Development Co.'s new apartment building, called Yard, that's currently under construction. Yard is part of a larger project at the Burnside Bridgehead that's long been planned in the area.
Jeff Pickhardt, president of Key Development, announced in August that Yard will contain 57 affordable units reserved for residents who earn up to 60 percent of the area's median family income. The current median income for a family of four Portlanders is $73,900.
The new owners at Towne Storage plan on "rebuilding and putting a penthouse on top of it and I think some retail on the bottom floor," Sturgis says.
The Mercury in the past has reported on similar issues with, "Pricing Out Portland's Artists" [May 27, 2015].
Sponsored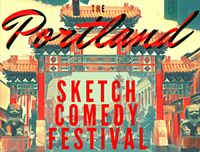 Sketch comedy troupes from all over N. America descend on The Siren Theater for 3 glorious nights.