Sponsored
Sketch comedy troupes from all over N. America descend on The Siren Theater for 3 glorious nights.
Mayor Charlie Hales at this morning's press conference announcing the two resolutions City Council will vote on this afternoon—one officially announcing the city's opposition to fossil fuel infrastructure expansion and the other announcing the city's intentions to explore policies to keep oil trains and storage facilities from coming here—stressed three things about climate change he learned over the summer when he and 60 other mayors met with the pope:
1) It's really bad.
2) It's not too late.
3) To save the earth from catastrophic climate change, we "have to strand much of the oil and gas we've already discovered in the ground."
"That's a mandate," Hales says.
Hales and Commissioner Amanda Fritz—who's sponsoring the second resolution—were joined at the podium by supporters Regna Merritt, Healthy Climate Program Director for Physicians for Social Responsibility; Mia Reback from 350PDX; Javier Hurtado, owner of Cha! Cha! Cha! Taqueria; Carlos Smith, who spoke on behalf of the Confederated Tribes of Warm Springs; and 13-year-old Peter Sallinger from Sunnyside Environmental School. Each spoke about why they support the proposed legislation, which has been called the strongest of its kind in the US.
Following the speeches, Hales addressed a question—which was likely related to his about face on supporting a proposed propane storage and export facility Canadian fossil fuel giant Pembina Pipeline Corporation planned on putting at the Port of Portland—about whether or not propane could be a "bridge fuel" for less-developed countries that still rely heavily on coal.
"Transition would be nice, if we had time," Hales said in response. "The message we've heard from the scientists is very clear: We don't have time. We need to do it now. We have other technologies, solar, wind. We know these technologies, we're using them now ... There's plenty we can do."
Today, the commissioners will listen to what will likely be hours of testimony at the 2:30 pm hearing to address the resolutions. Hales and Fritz are the only sure votes, we'll see if commissioners Nick Fish, Dan Saltzman, and Steve Novick are on the same page.
Portland's historic vote comes on the same day Oregon Senator Jeff Merkley joined Vermont Senator and presidential hopeful Bernie Sanders in introducing legislation that would block new oil, natural gas, and coal leases on federal lands and in coastal waters.
Merkely's reasoning behind introducing the "Keep It In the Ground Act" echoes that Hales talked about this morning. Merkley said, at a Tuesday conference call with members of the press, that, "We need to drive this understanding that for us to be good stewards of our planet, we must keep in the ground the vast majority of fossil fuel reserves."
Merkley acknowledged on Tuesday that he and Sanders probably won't be able to get Republican leaders on board with their proposed legislation.
Locally, though, activists are hopeful that at least one of the remaining Portland commissioners will vote for Fritz and Hales' proposals. They're planning a 1:15 pm rally at City Hall to gear up for the vote. The Mercury will be there, live tweeting and reporting on the outcome. Check back for updates.
Sponsored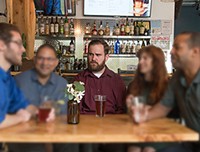 Adults aged 18-35 with good hearing will be paid for their time. Located at the Portland VA Medical Center