[EDITOR'S NOTE! Each year since forever, I've polled an annual selection of Portland's fashion-related industry insiders to get their takes on the best and worst of the past year, from trends to cultural moments, local and well beyond. I'll be spotlighting some of those responses on the blog, and in an upcoming issue of the Merc. Next up: Apparel designer Jason Calderon of West Daily!]
Sponsored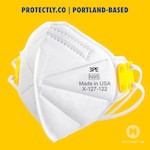 We have USA Made N95 masks available. Order N95, KN95, Surgical, Face Shields, Thermometers. Click here and USE CODE MERCURY FOR EXTRA 5% OFF.
Don't get me wrong, I'm excited for the new Star Wars film, but with numerous high-fashion brands giving their literal interpretation of Star Wars-themed fashion, the idea begins to feels a little (forgive the pun) forced. It was also a bit disheartening to see the surprising shutter of top indie labels like Band of Outsiders and Kris Van Assche. These brands seemed to have everything going for them and were seen by many, myself included, as an inspirational story of independent designers reaching success in the apparel business.
Band of Outsiders via Instagram
It was a nice change of pace to see some retailers taking a step back from the shop-on-Thanksgiving/Black Friday madness that's been building over the past few years. Much of it was certainly a calculated marketing ploy, but I'll take it.