• Venerable Portland apparel designer Kate Towers has had a great year, in which she's proven her ability to adapt and evolve as a designer for modern women who want to move and live freely in beautiful clothing. And now she has a brand new web shop, too, so tell all your friends.
Sponsored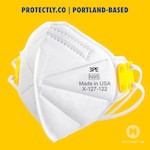 We have USA Made N95 masks available. Order N95, KN95, Surgical, Face Shields, Thermometers. Click here and USE CODE MERCURY FOR EXTRA 5% OFF.
• Wintry witch alert: CobraCult's latest lookbook, "Brightest Flame, Darkest Shadow," is all black cloaks and moss to go with the line's signature statement rings, stackable bracelets, and cult-ish amulets.
• Beth Ditto has a new, eponymous plus-size line coming out, and to celebrate/announce it, she teamed up on a collaboration shirt-dress with Jean Paul Gaultier, featuring a trompe l'oeil version of his bullet bra corset:
• If becoming a better fiber artist is on your list of resolutions for the new year, start it off right with a class being taught by Alexa Stark at the Oregon College of Art and Craft Jan 26-April 5 on Tuesday nights:
"In this design class, you will explore experimental fashion techniques to create a series of clothing. Through examining the effects of culture, history and place on fashion, you will be encouraged to consider the different definitions of dress, garments and accessories within the context of sustainability. Class projects will include experimentation and exploration of design through the deconstruction and reconstruction of clothing. We will study materials, forms, construction, color and issues of representation through both research and hands-on tutorials, making approximately one garment a week. Join us for this unique opportunity to work with local clothing designer and artist, Alexa Stark."
• You know Sock It to Me as the city's #1 purveyor of whacky socks, but guess what they have on deck for the new year: underwear!