The latest on the East Oregon occupation by a tiny group of armed, anti-federal-government militants:
Sponsored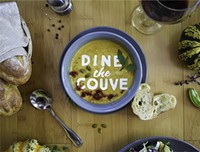 Experience the bounty of northwest flavor with special menus at Clark County restaurants all month.
The ostensible reason the Bundy clan and their ilk showed up in Oregon—to prevent the imprisonment of Harney County ranchers Dwight and Steven Hammond—died yesterday, when the men turned themselves in to authorities in California.
So why are the self-styled militiamen remaining? They said in a press conference yesterday they'd work to return lands to ranchers who'd been pushed out as federal control spread in recent decades (no mention of the native peoples pushed out more than a century before). But they're also apparently not so committed to all that. One of the militants told OPB they'll split if county residents ask.
One Harney Countian who's already asked? Sheriff David Ward, who used a news conference yesterday to urge the men breaking federal law at the Malheur National Wildlife Refuge to go home.
That's the most visible effort to defuse the situation we've seen. The feds—leary after bloody stand-offs with militants in the '90s and an embarrassing retreat in the face of some of these same folks in 2014—are staying away for now. But Sheriff Ward told residents last night not to be alarmed when they saw law enforcement from other counties patrolling. LATE ADDITION, 8:35 am: The Guardian reports the feds plan to cut power to the administrative buildings.
Neighbors cut off steep ice-covered street. #portland #freezingrain pic.twitter.com/D488zbW4uC
— Rob Manning (@RManning47) January 4, 2016
Monday's other big dramatic thing—all that ice—continues. Portland Public Schools are closed again, for instance, and several bus lines are cancelled (18, 51, 63). Many things are returning to normal.
The future of Oregon's pot economy—one tightly regulated by the OLCC—took another step yesterday, as the agency began formally accepting applications for licensure.
Mayor Charlie Hales oversaw a dramatic reshaping of Portland's Urban Renewal Areas last year. He's apparently got more tweaks in mind. Hales tells the Tribune he wants a new renewal area along Division and Powell, adjacent to a new high-frequency bus line. The city says it wants to use urban renewal money to preserve and create affordable housing. Plenty of people have plenty of reasons to be skeptical.
The Oregon Court of Appeals has given the city the green light to levy higher taxes on CenturyLink—meaning on you, CenturyLink customers.
Meanwhile, President Obama's tired of the shameful in nonreaction in Congress to the nation's gun violence epidemic. So he's taking a familiar tack: Using as much of his power as possible to force changes. The NYT notes those changes will have to be modest, since Congress isn't on board.
The Middle East is splintering into factions, depending on whether nations support Saudi Arabia or Iran. Those two regional powers are fighting over the execution of a Shiite cleric in Saudi Arabia. No one knows how far the rhetoric will go, but countries are already severing diplomatic ties. Whatever the outcome, the situation in Syria is about to get worse.
It's very, very gross out there. See y'all on the bus.