The 39th annual Portland International Film Festival (PIFF) kicks off this evening with sold-out screenings of Finland's The Fencer (which also screens later in the fest). But even if you didn't manage to snag those tickets, PIFF is just getting started, and the first wave of screenings crashes just in time for the weekend. I have an overview of what I've been able to screen so far in the current issue, but here are the films opening this week that I'm most likely to endorse:
Sponsored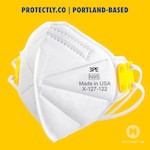 We have USA Made N95 masks available. Order N95, KN95, Surgical, Face Shields, Thermometers. Click here and USE CODE MERCURY FOR EXTRA 5% OFF.
100 Yen Love (Japan), screens Fri Feb 12, 5:45 pm at the Whitsell Auditorium; Thurs Feb 18, 5:45 pm at Cinema 21
Ichiko Saito is pretty gross. At 32, she lies around her mom's house eating weird junk food and playing video games in floppy sweatpants, belching and scratching her presumably under-washed nethers. Over the course of this film, she finally finds her belated motivation in life, and learns to stand up for herself through the confidence-fortifying powers of her local boxing gym. It's a hero's tale like you've seen Stateside more than a few times before, but the way it wraps up underscores a cultural difference in how the USA and Japan like to end their movies.
Sleeping Giant (Canada)—When bored teenagers summer on beautiful Lake Superior, you can expect that they'll A) ferret out the local weed dealer, B) use seagull carcasses for rock-throwing target practice, and C) jump off the many lakeside cliffs. This all happens in Sleeping Giant, but things also get much darker when the boys get caught up in adult drama, friend drama, and ultimately, the tragic realization that they're not, in fact, invincible. Fri Feb 12, 6:15 pm, Moreland Theater; Tues Feb 16, 6:15 pm at Cinema 21
Eye in the Sky (United Kingdom)—I don't love this one unconditionally, but it's worth watching to get a (presumably) clearer view of the political monkeying that goes on behind every drone strike inflicted in the Middle East. I'd like to believe that the care taken to avoid collateral damage by the characters here is a reflection of what actually happens in practice, but the cynic in me was un-mollified by Eye's depiction. Still, it's cool to see the technology, and the film features solid performances by Helen Mirren as a hardened army colonel with an itchy trigger finger, Aaron Paul as an American drone operator who just wants to pay off his student loans, and (my favorite) the dearly departed Alan Rickman. Fri Feb 12, 8:30 pm, Cinema 21; Wed Feb 17, 8:30 pm at Regal Fox Tower
The Other Side (Italy)—This is the film that has made the strongest impression on me out of all the PIFF films I've seen so far. I had to double check that what I was watching was indeed a documentary, because director Roberto Minervini's degree of access to his subjects in rural Louisiana seems utterly fantastical. I have lots of conflicting feelings about the result, and my mind still boggles over the fact that this handsome, educated Italian dude was able to convince some of the deep south's grimmest characters—the extremely pregnant stripper shooting up heroin, the mother smoking crack with her teenage son, the drug dealing, the meth cooking, the frontal nudity and full-on copulation—to let him film it all without so much as a solitary blurred face.
And that's just the first part of the film. The latter half features a group of militiamen convinced the government is going to declare martial order any minute now and take away their freedoms. If you want to know where folks like those in the Malheur contingent get their ideas, this is a pretty amazing/unnerving cross reference. Plus, the way these guys party is... a fucking nightmare. Just one anecdote from an epic, lakeside 4th of July party scene: a woman giving a dude head while wearing an Obama mask and about 10 other guys stand around watching. She finishes: "Can I have a beer now?" This is before the sun even goes down.
Minervini has kind of made it his project to illuminate some of the unseemliest corners of the United States (he has a whole trilogy on Texas). I don't entirely understand his motives, and the exploitative extent of the result is hard to sit with, but this is nonetheless one of the most amazing documentaries I've ever seen. Fri Feb 12, 8:30 pm, Moreland Theater; Mon Feb 15, 6 pm at Fox Tower 10
Sunset Song (United Kingdom)—I know Agyness Deyn best as a rebellious fashion model, but these days she seems to be putting her energy into acting, and she's almost unrecognizable as here as a farmer's daughter in rural Scotland circa the early 20th century. The accents here are authentic, and can be difficult to follow in the more rapid-fire scenes, but the strokes of the story are clear, and combined with breathtaking shots of the countryside, Sunset is a bittersweet and monumental portrait of a good woman's hard life. screens Sat Feb 13, 8:45 pm at Cinema 21; Mon Feb 15, 6 pm at Moreland Theater
Demon (Poland)—This one wasn't screened for critics, but it's on my list. screens Sat Feb 13, 11:15 pm