Sponsored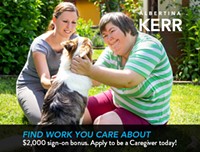 Become an Albertina Kerr Caregiver & help people experiencing intellectual and developmental disabilities.
There's not much to say about this game. This was an all-timer. This one goes in the pantheon of Portland games. Wow. Just...wow.
It starts and ends with Damian Lillard. This was his greatest game to date, and one of the best singular games from a Portland player of all time. Dame had a career-high in points (51), made field goals (18), made three-pointers (9), and steals (6). That he racked up those totals while also dishing seven assists to zero turnovers, against one of the best defensive teams in the league, just makes it that much sweeter. Damian Lillard turned the Moda Center into a tent revival, and he was in the middle of it all handling a dozen snakes.
This incarnation of the Golden State Warriors are in the conversation for the greatest team of all time, on pace to topple the 72-10 record posted by the '96 Bulls. Coming into tonight, they had lost just four times all season—one of those came without Stephen Curry, one without Draymond Green, and one on a back-to-back after going into double overtime the night before. The defending champs had just one legitimate loss on the season. Well, now it's time to make that two legitimate losses.
On the list of possible outcomes for this matchup, the Blazers winning by 30+ had to be damn near the bottom. Steph Curry sitting the entire fourth? Of course, but not because his team was getting run off the court. This was a statement win by a team cementing their place in the playoff hunt. Can we get seven more games between these two in the first round, please?
Portland jumped out to an early lead behind some All-Star level (lack of) defense. They dropped 21 points in under six minutes, powered by five points and five assists from Dame. Mason Plumlee feasted at the rim and Noah Vonleh chipped in a three, just his fifth make from deep on the season. Curry did his best with 16 points, but the Blazers played a nearly flawless quarter. Dame was out of his mind and finished on a personal 10-0 run en route to a 17-point quarter. Portland was up 42-31 after one, that 42-point mark the most Golden State has given up in a quarter all season.
A couple of Allen Crabbe threes to start the second pushed Portland's lead all the way up to 50-33, and Portland would lead by as many as nineteen in the half. But a nineteen point lead against the Warriors is never safe, and dudes ripped of a 12-0 run in the blink of an eye to restore balance to the universe. Portland was leading by double-digits and still felt like they were losing—the Warriors are just that good. Even after the early heroics, Portland entered the half with just a 68-62 lead. The Warriors looked read to coast to an easy victory.
And then, as was the theme of the night, Lillard just took over in the third. A four-point play, a deep three, a couple of makes at the rim—Dame was cooking. Even better, his defense was on point. He had a couple of highlight steals in transition that completely shut down Golden State's fast break opportunities, and Portland pushed their lead back to eighteen.
The Warriors were frustrated and visibly rattled. They can score points in such a hurry that no lead is safe, but a few calls from the refs went against them and they were shook. The crowd went nuts, Golden State turned the ball over with reckless abandon, and Portland's lead swelled to twenty-two.
Most teams are afraid to run with Golden State, but Terry Stotts turned this into a track meet. He urged his team to run at all costs and get out into transition, and somehow that strategy won out. He went small and, despite a brief run the second quarter, managed to match the small Warriors well. Portland conservatively switched on most pick and rolls but their defense held up. Both Vonleh and Moe Harkless proved invaluable on that front, Harkless especially with some solid hustle plays on the defensive end.
Portland cracked 100 with two minutes left in the third, and finished the quarter up 104-79. Steph wouldn't see the floor for the rest of the night.
When Dame checked back in with two minutes gone in the final frame, he hit back to back back-breaking threes. With another game against the Clippers coming the next night, Steve Kerr waved the white flag and pulled his starters for good. That was your ballgame, but Lillard wasn't done.
With six minutes gone, Dame went unconscious. He racked up a personal 9-0 run that was jaw on the floor, arms in the sky amazing. His first three tied his career-high. His second three was just because. His third three was the heat-checkiest heat-check, and of course he drained it from thirty-plus feet out. Two free throws later and Dame had his 51.
It is a stat line for the ages, a game to be remembered, an exclamation point following his All-Star snub. The Blazers took down the reigning champs and slowed their quest for the history books, all while Dame put on a show. The final score, 137-105, still doesn't seem real.
Sit back, watch those highlights on repeat, and enjoy this one. These Blazers are here to stay.