I have nothing against the pumpkin spice latte—except that I can't finish one. The proprietary blend of Starbucks' herbs and spices is way too sweet, making for a cloying drink that's got far more basis in sugarcane than gourd.
Sponsored
Sketch comedy troupes from all over N. America descend on The Siren Theater for 3 glorious nights.
But as leaves fall and rain comes, we deserve autumnal brews. Thankfully, local coffee shops are turning out great PSL alternatives that offer a treat without feeling like you're drinking hummingbird water. While some of the combos include spices that sound kind of out there—black pepper, turmeric, cardamom, and anise all make appearances—every barista stressed that their main focus is finding balance.
"I created our fall special to satisfy 'pumpkin spice' latte drinkers, but specifically sought to use spices that I felt complimented, and didn't clash with espresso," says Christine Herman, head roaster and co-owner of Case Study coffee.
So Herman made a masala latte, a spice-forward blend that really does the season justice. Others like Either/Or put actual squash into the mix, and more coffee shops use nuts, cookies, and other seasonal treats as inspiration.
Here's a rundown of our favorite fall-friendly blends, and where to get them:
---
S'mores Mocha | Water Avenue
This treat from Water Avenue is warm fuzzies in a cup. A marshmallow from Nineteen27 S'mores is infused with Water Avenue espresso and placed on a not-too-sweet mocha before being blowtorched (!!) to a perfect brûlée. Oh, and there's a little chocolate cookie on the side. Perfection.
Also try: their honey almond latte with Bee Local honey, espresso, and almond milk. Still need a hit of PSL? There's a delicious pumpkin spice French toast on special at the café.
Available only at 1028 SE Water, #145, wateravenuecoffee.com
---
Masala Latte and Peppermint Pu'Erh Tea Latte | Case Study Coffee 
This spice-forward fall special combines cardamom, coriander, and the slightest bit of cinnamon. Cardamom brings warmth, while the coriander gives a surprising orangey, woodsy vibe. They use cinnamon to make a syrup that thickens the mouth feel without adding too much of its flavor. Case Study is also blending pu'erh and peppermint teas, steeped to order and topped with steamed milk, for one of the most fortifying tea lattes I've had. Strangely, it tastes like melted mint chocolate chip ice cream—in a good way.
Also try: New Mexico Chile Mocha and a Café con Miel, a cappuccino zhooshed up with cinnamon and honey made by bees that pollinated on coffee blossoms.
Multiple locations, casestudycoffee.com
---
Hot Buttered Yam Latte | Either/Or
For some reason, after owner Ro Tam told me about Either/Or's returning PSL variation, I had a dream about yams. Fortunately, this drink is a sweet dream, made with real yams that features a base made from tea instead of coffee. Sweetened with caramelized maple bourbon topped with a cinnamon chocolate salt mixture, it's now a fall tradition at this Sellwood coffeehouse. It's so popular that owner Ro Tam says they wholesale it to other coffee shops. (But theirs is the best version, says I.)
8235 SE 13th, facebook.com/eitherorcafe
---
Speculaas Latte | Prince Coffee
If you're hooked on the Trader Joe's spread made from this tasty tea cookie, get thee to Kenton, where owner Katie Prinsen has turned speculaas into espresso magic, infusing the brew with cardamom, nutmeg, and ginger. Order their signature house-made stroopwafels (mini waffle-like cookies with a creamy layer of caramel in the middle) for maximum cookie-on-cookie dunking action.

Also try: the Anijsmelk latte. Prinsen says it's based on a warm anise milk drink her mom made when she couldn't sleep. She says star anise also pairs quite nicely with espresso as a seasonal pick-me-up. 2030 N Willis, princecoffeepdx.com
---
Maple Turmeric Latte | Upper Left Roasters
Watching the barista twist a few grounds of black pepper into my drink was cause for initial concern, but this stunner from Southeast Clay's Upper Left Roasters is really, really good. The sweet maple is there, but it's got a lot of flavor and warmth from the turmeric and spices, making for one of the most balanced specialty drinks I've had in a minute.
1204 SE Clay, upperleftroasters.com
---
Brown Sugar Latte | Stumptown
Stumptown's got buying power, and they commissioned a custom syrup from their supplier, Bend's My Chai, to launch their fall special nationwide. With a name that has sugar in the title, I was bracing for a sweetness blast, but the blend of organic cane sugar and molasses is much deeper. A Daleman's stroopwafel is included in the price, and served on the side to round it all out.

Multiple locations, stumptowncoffee.com
---
Bourbon Maple Butter Pecan Latte | Kainos Coffee
For so many ingredients, this Northeast Sandy outpost's fall special is surprisingly light. It's got a touch of those notes, particularly a hit of buttery pecan, but the balance means you're not apt to feel a glucose crash coming on an hour later. Also, Kainos donates 21 percent of its profits to helping children in the Philippines, which makes it all the sweeter.
6633 NE Sandy, kainoscoffeepdx.com
---
Non-Caffeinated
---
Mulled Spice Salted Caramel Apple Cider | Sterling Coffee
Personally, I'd add whiskey once I got it home, but it's just as dandy without.
417 NW 21st, sterling.coffee
---
DJ Root Beer Latte | Steven Smith
Made from a custom tea concentrate with birch bark, sarsaparilla, and wintergreen, it's good hot or cold—perfect for fluctuating fall weather.
Also try: Grab a carton of the new cold Chai latte to go, or at a local grocer soon.
110 SE Washington and 1626 NW Thurman, smithtea.com
Sponsored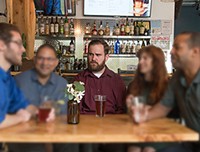 Adults aged 18-35 with good hearing will be paid for their time. Located at the Portland VA Medical Center