Fall Arts 2016
BACK TO SCHOOL? More like back to theater! For those of us who enjoy the under-appreciated art form, fall is that magical time when theater companies great and small announce their upcoming seasons. It's usually pretty easy to find out what the big companies are up to, so instead of urging you to see a fancy musical at Portland Center Stage or Broadway in Portland (although if you're a fan of jazz hands, you should do exactly that!), here are some season-opener picks from a selection of the city's smaller companies. They're quietly pulling off amazing work year-round, and they should be on your radar.
Sponsored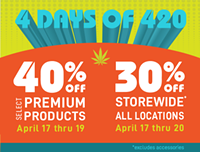 30-40% off Premier Dispensaries April 17-20
Flower, pre-rolls, edibles, carts and more.
These 4 Days of 420 are for you.
---
Antigone Project
(Profile Theatre)
Profile Theatre is doing the lord's work: making a concerted effort to only produce plays written by women and people of color for its next few seasons. It's a noble and necessary move towards greater gender equity in a national theater landscape that's overwhelmingly white and male, and its impact is compounded by Profile's format, in which each season is dedicated to the work of a single playwright. Under the new diversity initiative, the company's chosen to focus on playwright Tanya Barfield for its current season, which will wrap up this fall with one final, epic installment before it moves on to a new season of plays by Quiara Alegria Hudes. Antigone Project: A Play in Five Parts features Barfield's work, alongside fellow playwrights Karen Hartman, Lynn Nottage, Chiori Miyagawa, and Caridad Svich, in five short plays seeking to retell the myth of Antigone, the doomed daughter of Oedipus, interpreted by a cast of strong local actors including Lauren Modica and Cecily Overman. Alder Stage at Artists . Repertory Theatre, 1516 SW Alder, Sept 7-11, . Wed-Sat 7:30 pm, Sat-Sun 2 pm, $32-38
---
The Gun Show
(CoHo Productions)
"'No way to prevent this,' says only nation where this regularly happens." It seems nearly every day, someone posts that Onion article in the wake of a mass shooting, and yet America remains a country in thrall to the political power of the NRA, despite clear support for common sense gun control. E.M. Lewis' The Gun Show takes on our gun obsession, recounting experiences like growing up in a rural, gun-crazy culture and surviving an armed robbery. It's about as timely as you can get. And given that Lewis' solo show will be performed by Vin Shambry, one of the city's best actors, it's downright essential. CoHo Theatre, 2257 NW Raleigh, Sept 9-Oct 1,.. Thurs-Sat 7:30 pm, Sun 2 pm, $20-28
---
Head. Hands. Feet
(Shaking the Tree)
Making ordinary things seem strange is one of the best things good art can do, but too often, theater companies play it so safe that it's all but impossible to truly evoke a sense of dislocation from the everyday. Shaking the Tree isn't one of those theater companies, and Portland's performing arts community is exponentially richer for Artistic Director Samantha Van Der Merwe's productions, which pair risky material with intricate, careful directorial and design choices in immersive performances that stay with you. This fall, Shaking the Tree is producing the spooky-sounding Head. Hands. Feet (subtitle: "Tales of Dismemberment"), which combines some of the darkest stories from fairy tales (e.g., the horrifying Bluebeard) and classical mythology (Iphigenia) into a play that's sure to continue the company's fall tradition of making theater that's weird, dark, and well worth your time and attention. Shaking the Tree Warehouse, 823. SE Grant, Oct 7-Nov 5, Thurs-Sat 7:30 pm, Sun . 5 pm, shaking-the-tree.com
---
How I Learned What I Learned
(Portland Playhouse)
Portland Playhouse's season opener is an atypical combo: a rarely-seen play by and about a major icon of American theater. How I Learned What I Learned is August Wilson's autobiographical solo show, in which the playwright recounts his experiences, from formative moments as a young black artist living in Pittsburgh to becoming the critically lauded, Pulitzer-winning author of the American Century Cycle. Highly recommended if you care about intersections of art and race, and the "small irrevocable tragedies" that, as Wilson puts it, make up a life. Kevin Jones, co-founder and artistic director of the August Wilson Red Door Project, will direct. Portland Playhouse, 602 NE Prescott, Sept 21- Oct 23, Wed-Sat 7:30 pm, Sun 2 pm, $25-34
---
Come Inside Sex & Culture Theater Festival
(Dance Naked Productions)
When Portland theater artist Eleanor O'Brien started touring last year with Lust and Marriage, her play about resisting bed death after marriage, she was so excited by the new work she encountered from fellow artists on the road that she decided to curate her own local festival of sex-positive theater. While other cities already have well-established, similarly focused programs—O'Brien cites the Seattle Erotic Art Festival—she notes that Portland does not, despite seeming like a community that would be receptive to the idea. So she created her own: Come Inside, a festival of sex and culture, featuring Shirley Gnome ("almost pure entertainment," in O'Brien's words), O'Brien's own show, GGG: Dominatrix for Dummies, San Francisco's Bawdy Storytelling, and slew of other performances that examine various aspects of queerness, gender identity, sex work, and sex education. "When it comes to sex, we often stick with our own tribe," O'Brien says. But theater can "open a window into a lot of different communities" and get people talking and thinking about subjects that can often be loaded with conversation-killing stigma. The Headwaters Theater, 55 NE Farragut,. Thurs Sept 29-Sat Oct 8, Bawdy Storytelling. and opening night party Wed Sept 28 at the. Star Theater, 13 NW 6th, 8 pm, $15