NEW PORTLAND LIFE GOAL: Assemble a group of six or seven friends, and make sure they are the kind who roll deep and hard with food and booze. This is not the time for your friend's boyfriend who won't drink rice liquor, and be sure to straight up uninvite your girl who thinks meat on the bone is gross. Gather the squad that's down for a third order of fried chicken, and will always flag down the waiter for another round of Hite beer.
Pregame until 9 pm, and descend like the Avengers on Chungdam Korean Fusion, which opened recently in a strip mall at SE 82nd and Powell.
You'll immediately be greeted by a big screen TV that plays K-Pop videos from the time the shop opens at 11:30 am and closes at 1 am. I have seen the Korean Eminem, and he is good. This will be the backdrop as you scrunch into the booths and throw an extra chair at the end.
The front of the late-night menu offers a group of plates at $4.99 and another bunch at $8.99, while the backside has more late night-only items and a best-of list from the daytime menu. If your friends are in—and they better be—just start firing away.
Liquor is important. Many large-sized Hite or Kloud Korean lagers must appear first, followed by a bottle of the peach-flavored chum churum soju ($13), a clear rice liquor best consumed neat, with a sweetness that goes down just right. Sparkling makguli ($11) is a fermented rice liquor that's milky white and poured into small saucers. It's slightly tangy, and delightfully effervescent. Lap that up like a kitty and get a few more bottles—we liked the Saeng Saeng brand best.
Get two orders of the rice cake skewers ($4.99), glutinous rice pounded into oblong pieces, grilled and lightly covered in salty sauce. The texture—sticky, chewy, toothsome—is of legend. Another prerequisite is the cheese buldak ($14.99), spicy chicken simmering on a hot stone plate with oodles of melted cheese on top. Koreans embrace cheese more than any other Asian cuisine (in large part due to the American presence during the Korean War), and it appears again on the corn cheese ($8.99), a late-night staple that's kind of forgettable here.
You may balk at shelling out $29.95 for the boodae chigae, since its main ingredients involve ramen noodles, bacon, and Spam. Also known as "Soldier Soup," it's another vestige of the American occupation. Its arrival at 10 pm, when you're several drinks deep, will be the crowning glory of the night. It's a massive pot of spicy red greatness, placed on the table with a propane-fueled burner to keep it simmering. Your table of seven—after all the fried chicken ($12.99), gizzards ($4.99) and stir-fried spicy rice cake ($8.99)—will not be able to completely finish it off. But you will try, and that Spam will somehow be fluffier than you've ever tasted it, and there will also be melted cheese involved. (The chigae is also available on the regular menu, and really is fantastic any time of day).
When we visited, our waiter told us that not even the Korean patrons order the steamed silkworm pupae ($8.99)—and probably for a reason. While bugs may be the protein of the future, I was happy to leave those little brown bugs in my past. However, a sea snail salad ($14.99), was served cold and delightfully vinegary, with the snails' taste and texture similar to a good clam or mussel.
Chungdam, whose owner also runs the Gangnam Korean BBQ in Hillsboro, has also been steadily busy during lunch and dinner. It's one of the few places I know that has Dolsot bibimbap—a bowl of rice with meat, seafood or kimchi, vegetables, and an egg ($10.95-$12)—except this one's served in a superheated stone bowl that crisps up that rice better than most paella pans. Let it cool, then stir in the sweet and subtly spicy sauce served on the side. Do not trifle with a cold bowl.
The mandu steamed dumplings are hand-folded in house, but they also come as a generous fried appetizer ($7.95) as well. But these pork dumplings did sneak into a later order of what was supposed to be a traditional beef dumpling soup ($10.95), which was also a little lackluster with an underseasoned broth. A kimchi pancake ($7.95) was nicely sized and super shareable. I'll be back to try the grilled mackerel and the japchae when I get a chance. But, really, late nights at Chungdam are the stuff of my dreams.
---
Sun-Thurs: 11:30 am to 9:30 pm; Fri & Sat 11:30 am to 1 am. Make reservations for larger parties more than a day in advance, but you can also try calling ahead to get on the list. Family friendly. K-Pop forever.
Sponsored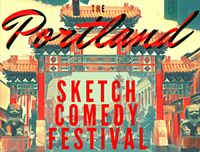 Sketch comedy troupes from all over N. America descend on The Siren Theater for 3 glorious nights.