Fans of Johanna Ware's erstwhile "inauthentic Asian" restaurant Smallwares (and attached bar, Barwares) found reason to rejoice this year when Ware opened a new place: Wares, in the Zipper building on NE Sandy. The abbreviated name is appropriate, given the pared down nature of Wares. Like other food options in the Zipper, Wares is a small counter-service restaurant, with very few tables in its minimally but specifically decorated room, attached to an indoor/outdoor cafeteria-style seating area with a TV and fire pits—anchored by cool, waggish whiskey bar Paydirt.
Sponsored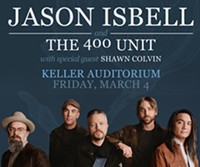 Jason Isbell has established himself as one of the most respected songwriters of his generation. Don't miss Jason Isbell and the 400 Unit, March 4th at Keller Auditorium!
The Zipper is a dumb name. Previously one could refer to the entire building, food court and all, as Paydirt—the bar was clearly the main reason to be on this tiny wedge-shaped block of NE Sandy. But as the food options (falafel from ChickPeaDX, fried chicken from Basilisk, pizza from Slice, and now Wares) have dialed in their game, it's become more natural to think of the Zipper as its own entity.
Where one used to sit back and watch Paydirt's staff repeatedly tell customers "We don't do food, but there are four restaurants right out that door," it's now as common to overhear a delighted patron of one of the restaurants exclaim, "There's a bar here, too?"
Yet Wares—with its addition of oily soups, fried bites, and copious pork belly—simultaneously establishes the Zipper as a food destination and cements Paydirt's place as the building's unhealthy heart and dark soul. Even the relatively ungreasy ChickPeaDX feels like drinking food when paired with a clean, bright Irish or young American whiskey from Paydirt's deep list. (This is due in large part to ChickPeaDX's sauces, especially the splashy mango amba and the sneaky spicy zhug. Sauce is, in some ways, what makes drinking food so good: It gives you something active to do, either dipping something in sauce or pouring sauce onto something, or simply navigating a dish covered in sauce.)
At Wares, fried kale (with candied bacon and a bracing, funky fish sauce vinaigrette, $10) and a fried and halved six-minute egg covered in pickled shallots and Chinese mustard ($3) sit comfortably next to a beer or hugely-flavored cocktail. Wares offers some similarly punchy main dishes, like sweet and spicy Sichuan noodles studded with pineapple and basil that seem to somehow repopulate the bowl after every bite ($12). One can add pork belly or chicken thighs ($3), oyster mushrooms or tofu ($2), and of course an egg ($1) to any of Wares' mains.
The fried kale is a nice take on Portland's unofficial official superfood, but other greasebomb finger foods also dot the Wares menu, like a take on fried cheese curds. For those who have always lamented that curds were neither big nor creamy enough, and without variable texture, Wares embeds them (like gooey landmines) in bars of risotto, fried and presented with "tomato jam" (read: ketchup) and a tofu ranch ($7).
On the weekends, Wares offers brunch. A recent Sunday found the patio bathed not in sunshine, exactly, but that diffused and cloud-obscured glow we tend to treat like sunshine this time of year. People sat on the Zipper patio in shorts, with dogs or children, and sweated in the reasonable facsimile of "heat."
I wore sunglasses. The threat of sunshine excused them; the previous night's revelry necessitated them. My hangover found its soulmate on Wares' brunch menu. In fact, my hangover couldn't choose between congee and Turkish eggs, and entered into a disgusting menage a trois with two dishes that I can't say I regret. The congee (AKA rice porridge, $10) satisfied a friend who lived in China for a time and always laments that Portland's Chinese food feels too healthy: This congee has a lip-smacking greasiness from Chinese sausage, but does also include granola in a nod to Portland's... well, granola crowd. Cilantro and green onions keep it from falling into bland heaviness and an egg yolk beams from the center of the bowl like a surprisingly welcome sun. The Turkish eggs ($9) are a take on çilbir: poached eggs and yogurt. I'd never had or heard of this dish before, but I now wake up thinking of it—though I'm too afraid to try to make it myself at home. Wares' is fairly nontraditional, I assume, with chorizo butter and toast points where I might expect pita and a more Middle Eastern chili pepper profile, and yogurt with a savory tahini bent. It's rare for a clever fusion restaurant to deliver convincingly on the fusion end, but also offer an authentic-enough introduction to a rare or obscure dish.
Maybe the cleverest aspect of the Wares menu, however, is its back side: a small, smart wine list, filling the gaps in Paydirt's program and offering subtler accompaniments for some of Wares' less in-your-face dishes. A fairly mild chicken ramen, for instance, with its inoffensive chili paste and crisp pickled turnips ($13), can get lost between sips of a smoky scotch whiskey or bottom-heavy bourbon, but it pairs unexpectedly well with pink bubbles or even a richer, stone fruitier Melon from nearby Bow & Arrow Wines.
I was less taken by the other brunch dish—a breakfast sausage bao and gravy ($8). Big, spongey bao and biscuits and gravy are two of my favorite things, but the bao at Wares feels sadly small and deflated, like a slowly crashing zeppelin, and the gravy presents as a thin skin that's reminiscent of silly putty stretched over newsprint. The bao on the regular menu are also texturally underwhelming—pan-fried steam buns are fine, but these seem to have the life browned out of them.
And while no food may ever pair with the general spirit of drinking as well as Basilisk's dan dan fries—peanutty, mouth-numbingly sour-spicy, HUGE, and how do they stay so crispy for so long?—Wares' thoughtful, experimental menu rounds out the food options at the Zipper perfectly.
So while Paydirt may still be what makes it all worthwhile (and a stomach-settling Fernet Branca on draft may be what makes it all possible)—it's Wares, with its pedigree and seriousness, that stabilized this stable of restaurants and finally forced me to utter the name: Zipper.