There are more than 330 islands in Fiji in the South Pacific—and I haven't been to any of them. So when I came across the Big Elephant, a recently opened Fijian spot on North Williams, it was something of a mystery.
Sponsored
Sketch comedy troupes from all over N. America descend on The Siren Theater for 3 glorious nights.
I learned it's a family-run business, and despite not having any expectations, the food wasn't what I expected. It was basically Indian cuisine.
"This is the food we were brought up on," said Saleshni Sundar, who opened the restaurant with her brother. On school field trips, while other kids would have a sandwich, she'd have a full spread of Indian delicacies.
A Portland native, she's never been to Fiji, but her mom Rajni (also Big Elephant's chef), was brought up there. Her ancestors were among those who emigrated from India to cut sugar cane in Fiji. They brought their cooking traditions along with them but utilized local ingredients and spices. Rajni still considers her cooking to be Indian—she says the main difference being that Fijians cook ingredients separately while Indians tend to cook everything in one pot.
One of the reasons Saleshni was inspired to open Big Elephant was that the Indian food she came across was "Americanized and overpriced." What she serves is an extension of the food Rajni was cooking for family get-togethers. Unlike some places around town that feel the need to reinvent a regional cuisine, Rajni keeps it relatively simple, concentrating on spice mixtures and flavor. It's also cheap: You can eat heartily for 10 bucks (there's also a $5 lunch special).
Your meal starts by ordering a tharkari, a choice of three entrée dishes ($7.99, $8.99, or $9.99 for all three) which comes with rice, dal, garlic nan, and a chutney, all served up on a tin plate. My favorite was fish cooked in coconut milk, though get there early—by the end of lunch supply is limited. The spices played nicely with the fish and the overall impression was one of light freshness.
Other tharkari choices include lamb and chicken, as well as beans and vegetables, but it's the sauce that wins the day here, humming with Rajni's spices. The accompanying chutneys can add or take away heat: Cilantro mint adds a kick, while the raita (cucumber and yogurt) calms dishes down.
I've eaten a lot of samosas at Indian and Bangladeshi restaurants and the ones here, served as a $1 side, are some of the best I've had—a tasty bundle of carrots, potatoes, and peas with jabs of spice, wrapped in delicate pastry. Ditto the bhajiyas ($1), which were forthrightly crisp, but retained a soft center.
For dessert there was kheer ($2), a sweet rice pudding dappled with lively black and green cardamom. By then I was more than full, but the kheer was too good to ignore—so I wiped my bowl clean. Meanwhile, the mango lassi ($2) is the perfect drink for the summer heat—icy and fresh but not overly sweet.
That being said, not everything at Big Elephant shines. A spinach dish was ho-hum, while a tharkari featuring boiled eggs tasted a little bland—though perhaps a liberal application of chutney would rev them up (the peppy cilantro mint wasn't available at the time). And don't order the cassava fries expecting the usual light, crispy potato variety. These were dense and starchy—not bad, but definitely their own thing. However, the accompanying tamarind dip was excellent.
The dining area is a no frills affair, more like a café, with attractive Fijian and Indian decorations on the walls. It's not the place for anyone wanting high concept dining or zeitgeisty gimmicks—this is comfort food, done well and delivered fresh and clean. Some may be lured in by the properly authentic cuisine, but I couldn't care less about that. It has plenty of what's missing from too many places in town: heart and soul.
Sponsored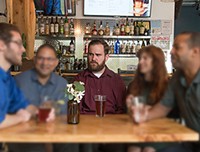 Adults aged 18-35 with good hearing will be paid for their time. Located at the Portland VA Medical Center