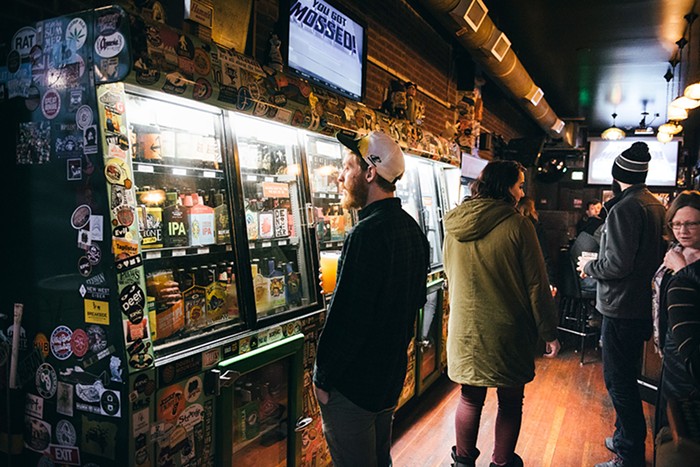 CHANGE IS GOOD, change is good, change is good. It's become my mantra while walking or driving around my home in North Portland's Overlook neighborhood. I shouldn't have to convince myself that change is good. To hear my family talk, I'm a leftist millennial who wants to burn the past to the ground.
Sponsored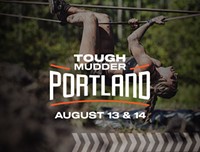 Lock in your summer adventure, Portland. Join us for world famous obstacles over a 5K or 10K distance.
But you tell me my favorite bar is changing hands, rebranding, or even just remodeling? I'll go red in the face. When you become a regular at a place, you trick yourself into thinking it's your second home. If that bar closes, your house just burned down; if it changes hands, your family abandoned you; if it so much as redecorates, it's a home invasion.
The last few months have seen a lot of changes to Overlook bars and restaurants, like it or not. Mississippi mainstay Equinox closed, becoming Slate before selling and becoming the 1905, which seemed to be hopping on a recent Monday jazz night. Patton Maryland, which is in the old Pause space on Interstate, is filling its niche of inoffensive neighborhood patio fare just fine.
Meanwhile, beloved Interstate whiskey bar Pinky's closed for the thirstiest six weeks of my life this fall, reopening with an expanded (or gutted, depending on how much you miss Pinky's pizza) menu and a new name: Pinky's Bar Nowhere, adding the moniker of the place's longtime sister bar in Japan. The new food features addictive bar snacks like Korean BBQ beef jerky, furikake corn nuts, and a tuna poke bowl that puts the competition to bed (with a glass of rare whiskey, naturally). Those lamenting the loss of pizza can frequent the 1905 instead, but they'll be missing out on Pinky's jaw-dropping wall of liquor.
So far, change is... good? Pinky's move to bar food and more whiskey signals a desire to focus its clientele: whiskey geeks and neighborhood drinkers love the joint. When I mentioned wanting to write about Overlook's changing bar scene, the guy next to me at Pinky's glittery gold bar gave me an elbow and warned, "Not too much publicity, now." I could see the threat in his eyes, that if I brought uninvited guests to his home away from home there'd be hell to pay. And he's my roommate.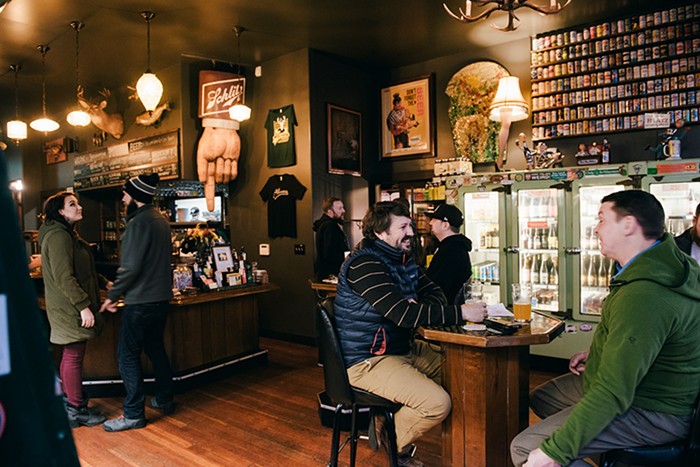 But the biggest changes for me have been two inextricably linked Killingsworth bars: Saraveza, which remodeled and slightly rebranded this year, and the Hop & Vine, my old haunt and workplace, which closed and reopened as Backyard Social, now owned by a trio of onetime Hop & Vine employees. (It's always seemed important that Saraveza and the Hop & Vine were influential craft beer bars owned by women, and Backyard Social's three owners celebrate keeping that tradition alive with the hashtag #babeswiththepower.)
Backyard Social built a new bar, redecorated, and turned the Hop & Vine's bottle shop into the Wild and Free Room, an event space and secondary bar showing Blazers games. But the tap list and wine menu are still impeccable and the food remains exceptional—go right now and get the mysteriously delicious pumpkin crepes, stuffed with mushrooms and gruyere (all the ingredients melt into one) and hidden under a pile of arugula. Is it the Hop & Vine? Technically no, but sit on that huge-yet-intimate back patio on a sunny day and tell me you don't feel at home.
Oddly, the change at Saraveza feels more dramatic, even though the bar didn't change ownership or even name. Saraveza is a nationally recognized craft beer bar, still stores bottles and cans in gorgeous midcentury fridges, and will always be a Packers bar. But it used to be wall-to-wall kitsch, choking on beer memorabilia and Midwest tchotchkes, with a frosty mug of Hamm's always a two-dollar draft pour away. Now, the house beer is a custom cream ale from Breakside called Wisco Tavern. It's better than Hamm's, but I'm still somehow bitter about it. The food used to be idiosyncratically pubby: sausages and Midwest meat pies called pasties (which you can still get, FYI). Now, the food is, well, good: fried cheese curds that taste like a permanent end to all wars, oyster po' boys or brisket sandwiches, cassoulet, and a steak, even! At Saraveza!
Why do I feel like this is the end of the world? It makes me feel like I'm wearing a Make Overlook Great Again hat, but god I miss that mug of Hamm's. Is Saraveza worse now? In fact, it's objectively better. But back then it wasn't slick. I didn't think it had to be. I liked that Saraveza didn't seem beholden to the whims of time, or anyone's taste but my own—but of course that's fantasy. If we embrace change, we'll see that Saraveza, like America, is and was great. As long as we can silence our inner-reactionaries, it will keep getting better.
Sponsored
Virtual Auction Event & Drag Queen Fashion Show. You won't want to miss this show!