Seventeen million years ago, a major fracture in the North American continental crust caused torrents of lava to pour into the Willamette Valley. For the next 10 million years, periodic lava flows built up layers of basalt bedrock. Further geological incidents rearranged the shape and composition of the valley, but the higher hillsides remained purely volcanic. Eons later, it's the place where many of Oregon's top wine producers source their grapes.
That micro geology lesson either inspired awe at the hugeness of time and the power of Earth's primitive forces, or caused your eyes to glaze over with boredom (in which case, thanks for sticking with it). Soil has always been a big deal to viticulturists and winemakers, but now it's become fashionable. In the last few years, modish folk in the wine world have started talking about "volcanic wines." These wines supposedly share similar attributes due to lava- and ash-based soils. It's what links the Dundee Hills to Chile's Colchagua Valley to the Pfalz region of Germany.
There are many different types of volcanic soil, so the correlation is nuanced. For John Szabo, a master sommelier and author of the award-winning Volcanic Wines: Salt, Grit and Power, the connection comes through the savory character of the wines—which have earthy and herbal notes as well as minerality—and a "mouthwatering quality" from either high acid or saltiness. They also have a distinctive mouth feel, which he describes as "intense and heavy as a feather."
I found similar elements in the volcanic wines I recently tasted. They were deceptively light; each one packed a real punch. They were also delightfully quirky. I'd recommend any one of them if you want to switch up your usual drinking habits. Plus, it's an opportunity to namecheck kicky regions like the Canary Isles, the Greek islands, and Hungary.
This question—how dirt affects wine—is at the center of a prickly debate about what makes a wine. Soils affect the way a vine grows, along with water drainage and many other factors that keep viticulturists busy. But to say minerals from the Earth actually end up in your glass is scientific nonsense. Geology professors who have studied the issue flatly state that vines don't draw off geological materials, no matter what you think you're tasting, or how the winemaker swears that the essence of the soil shines through the wine.
In his book, Szabo acknowledges the various factors at play in wine production, and his definition of a volcanic wine is careful and intricate. Still, he's mostly working off anecdotes: His job is to taste wine (lots of it), and he's chosen features that occur regularly enough that he can class certain wines together. I trust him on that, and not just because the volcanic wines I have tasted share similarities. There are big gaps in our understanding of wine chemistry, subjective taste, and how they join together. That blind spot is enchanting. Wine enjoyment isn't magical, but it's more than an equation. If nothing else, it's a way to highlight some remarkable wines, which we can sip while pondering the earth's prodigious forces.
Volcanic Wines to Try
Los Bermejos Listán Negro, 2012 (Canary Isles)
The volcanic islands of the Canaries often resemble a ragged, lava-filled moonscape. Made from Listen Negro, the aroma here is a unique blend of tequila and dirt. Flavors evolve from BBQ sauce to more complex black cherry, menthol, and molasses, with a hint of saltiness. $28 from 1856, 1465 NE Prescott
Argyros Atlantis, 2014 (Greece)
A blend of Mandilaria and Mavrotragano from the Greek island of Santorini. Cherry and stewed plums shroud an earthiness, and there's a long, salty finish. Zingy and mouth-quenching, it's an aperitif or afternoon summer sipper. $19.99 from Liner & Elsen, 2222 NW Quimby
Inama Vigneto Di Foscarino, Soave Classico, 2014 (Italy)
Sixty-five million years ago, this region of northeastern Italy was a tropical lagoon. Volcanic activity rearranged the landscape eventually making it inhabitable for Venetians. Soave is perhaps Italy's greatest white wine; here, it's luscious, complex, weighty, and full of little surprises. $25 from Division Wines, 3564 SE Division
Calabretta Cala Cala, Vino Rosso, NV (Italy)
A multi-vintage blend from the slopes of Mount Etna. Intense yet fresh, it offers cherry-red fruit, chocolate, and a certain meatiness—odd-sounding, perhaps, but it comes together beautifully. Try with grilled meat, heavier pasta sauces, or Sicilian fish stew. $20 from Ardor Natural Wines, 1006 N Killingsworth
Chapter 24 The Fire + Flood Pinot Noir, 2013 (Oregon)
A pair of wines that showcase the difference in Willamette Valley soils. The Fire was sourced from volcanic Jory soils, resulting in a spicy wine loaded with red-cherry fruit. The Flood's grapes grew on younger sedimentary soils, producing something different with darker fruits and savory herbs. $60 each, chapter24vineyards.com
Sponsored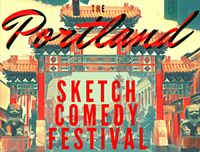 Sketch comedy troupes from all over N. America descend on The Siren Theater for 3 glorious nights.