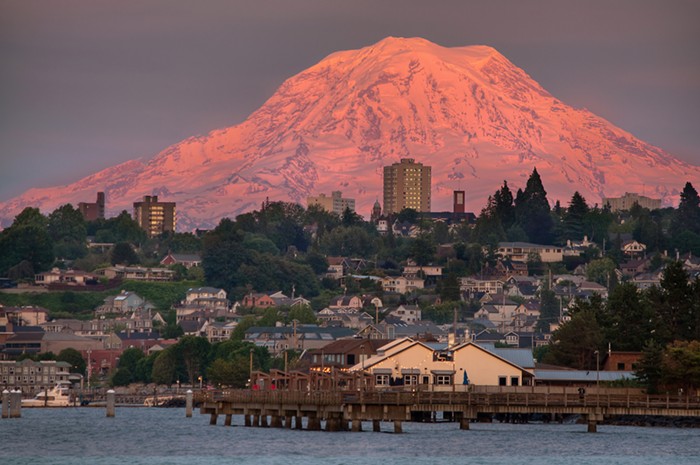 The publisher of the
Tacoma Weekly
allegedly stole his employees wages earlier this year by deducting health insurance premiums from their paychecks and then pocketing that money, instead of paying for the health insurance his employees thought they were purchasing.
Rachelle Abellar, a former employee at the weekly paper, said John Weymer, the weekly's publisher, deducted healthcare premiums from employee paychecks for four months this year without paying for the insurance. The employees didn't find out until they tried to use their insurance and found out that it had been cancelled.
"I got a letter in May saying that a claim was denied from when I went to the clinic in February. The letter said that I wasn't covered by Kaiser [Health Insurance], so I confronted my boss about it and that's when I found out that we weren't insured anymore. He just failed to tell anyone that he cancelled our insurance," Abellar said.
Abellar, who worked in art production for five years at the paper, said Weymer agreed to pay back the premiums he deducted and cover any medical costs but has yet to do so. Abellar said she quit her job in September after Weymer didn't pay her for two pay periods.
Weymer did not respond to multiple e-mails and voicemails asking for a comment.
Abellar sent me e-mails and text messages showing Weymer agreeing to pay for the medical bills and replace the deducted premiums.
Marc Cote, an attorney in Seattle that specializes in workers rights cases, said the situation Abellar describes is "pure wage theft."
"If the allegations are true, the employer is stealing wages that were promised to the employee and Washington law is clear that an employer cannot derive any financial benefit from wage deductions," Cote said.
In addition to allegedly stealing pay, Weymer may have also been failing to report employee wages to the state. When Abellar applied for unemployment benefits she said she was told by the state that she had not been paid any wages between July of 2017 and June of 2018. Employers are responsible for reporting to the state the amount they pay each employee in order to calculate various taxes and benefits.
Usually, employees are not eligible for unemployment benefits when they quit a job. But if someone quits a job because their employer failed to pay them then they can collect unemployment.
Weymer told Abellar to not file a case with the state's Labor & Industries Department when she asked him about the missing wages, according to an e-mail Abellar shared with me. One of Weymer's employees told Abellar in an e-mail that she would be paid with money Weymer was receiving from a settlement.
"He [John Weymer] asks that you not go to L&I and that if you do it could be week's [sic] until they get your case settled. He will be in touch when the tribal settlement comes and and [sic] he can settle with you what he owes you," the employee said in the e-mail.
Cote said it is a clear violation of the law for any business to not report wages to the state.
"Business that don't register and don't pay their fair share of taxes are violating the law," Cote said. "They are also getting an unfair competitive advantage over other businesses because they don't have to pay the same types of taxes that other businesses pay."
Cote said it's unfortunate that there are businesses that think they can get away with cheating their employees out of the wages and benefits they are required to provide.
"It adds insult to injury after this person was not paid and she tries to get unemployment and she can't. That's terrible," Cote said.
Tacoma Weekly is a free publication that's been around since 1987, according to its website. It is owned by Pierce County Community Newspaper Group.
Abellar said she tried to organize the rest of her office to collectively demand the wages they were owed but was unsuccessful.
"I tried to go on strike last month but no one wanted to join me," Abellar said.
Abellar said she told her former coworkers that Weymer may be failing to report their wages to the state but hasn't heard back from most of her former coworkers.
"Only two people reached out to me and no one has really said anything. But I know people are still working and as far as I know still having trouble getting paid."
UPDATE: 5 p.m. Weymer reached out to The Stranger and confirmed that Abellar worked for Tacoma Weekly for five years but denied the allegations made in this article.