Newcomers' Guide 2016
OH HAI! You're here because Portland is so very hip, so very now and so very tasty! You've seen those Insta shots of fried chicken on waffles, fried chicken on a biscuit, fried chicken in Korean chili paste! Like a culinary Ariel, you want to be a part of our world.
Sponsored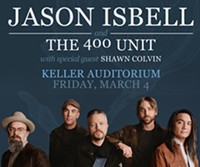 Jason Isbell has established himself as one of the most respected songwriters of his generation. Don't miss Jason Isbell and the 400 Unit, March 4th at Keller Auditorium!
I'm going to serve you up some Portland now-ness. You'll hear everyone telling you to get Ike's wings at Pok Pok, or the iconic clam chowder with bone marrow at Ox. You already know about Salt & Straw, and that you will celebrate at least one anniversary (maybe your first six months in PDX!? Squeeee!) at Le Pigeon.
So here's where you should go to get a taste of Portland, circa 2016. All these places are pretty spanking new—and all have a plate of food to put in front of your shiny new face.
---
Mrs. Yang's Spicy Fried Chicken with Peanut Brittle, Revelry
At just over a month in business, Revelry is already proving itself. Among the many great Korean fusion party dishes, Mrs. Yang's spicy fried chicken stands out as a sticky-sweet towering success. It's got a chili pepper bite and addictive sauce with crunchy peanut brittle that softens the spice. Make sure you share it with friends, even if you don't want to. 210 SE MLK, revelrypdx.com
---
Pastrami Sandwich, Pastrami Zombie
You can read more about this great truck next to Pollo Norte in this week's restaurant review [Last Supper, Sept 14]. But all that really needs to be said is this deceptively simple sandwich (Grand Central bread, a heap of coleslaw, Russian dressing, and Swiss cheese) serves as the perfect vehicle for super smoky pastrami that you will crave at all hours. 5429 NE 42nd, pastramizombie.com
---
Poke, Poke Mon
You may have moved here from a place that had a poke restaurant already, but was it sustainable? Did it have all the LaCroix? Did it have AIR PLANTS?! I didn't think so. Poke Mon is best when you customize your bowl, so go a couple of times to see which fish pairs with Pamplemousse (hint: it's the salmon). 1485 SE Hawthorne, pokemonpdx.com
---
Bucket of Chicken, Arrosto
There is SO MUCH good roasting happening around Portland right now that a rotisserie chicken should be our city's official bird. I'm partial to Arrosto, with its lemony-bright infusion of oils, sides that include crispy potatoes roasted in chicken fat, and a salty slice of focaccia. Plus, this gets you in the door of Providore Fine Foods, a very swank and enjoyable market. 2340 NE Sandy, arrostopdx.com
---
Pepperoni Slice, Pizza Jerk
You'll soon hear about Bunk, the sandwich shop of legend. Pizza Jerk is owner Tommy Habetz's new baby, which closed not long after opening last spring due to a fire. As of last week, it's reopened, and these sizeable slices are worth the wait. Those li'l pepperonis curl right up when cooked, just like they should. 5028 NE 42nd, pizzajerkpdx.com
---
The Whole Shebang, Matt's BBQ
For years, Podnah's Pit has been the top barbecue joint in town, but the arrival of this spunky cart has really mixed things up. We like the brisket and Saturday beef ribs special, but it's best to get a platter of the works—brisket, a rib, a sausage, pulled pork, and sides—to see what you like best. 4709 NE MLK, mattsbbqpdx.com
---
"SpaghettiOs," SuperBite
SuperBite is a second venture from the minds behind Ox. This small plate of al dente pasta is a few spoonfuls of bliss: Fresh truffle and Irish butter are just about all it takes to launch this into the permanent collection of the memory bank. 527 SW 12th, superbitepdx.com
---
Fried Chicken, Mae
The epic fried chicken (it's cooked in THREE fats!) isn't the only thing you're going to get at pop-up Mae. It's just one in a procession of heaping plates of biscuits with pimento cheese and ham, divine things done to seasonal vegetables, and heirloom Southern grain risotto courtesy of Maya Lovelace. Stretchy pants are required. At Old Salt Marketplace, 5027 NE 42nd, maepdx.com
---
Bowl of Jook, Jook Joint
This cart blends Texas barbecue and Southeast Asian influences to make some seriously addictive jook, a rice porridge staple that brings comfort to almost the entire continent of Asia. Chicken stock is blended with ginger and lemongrass, topped with cilantro, a perfect soft-boiled egg, and a smattering of crispy wontons. Add the 12-hour smoked brisket. 530 SW 5th, twitter.com/jookjointpdx
---
Peanut Butter and Jelly Sundae, Wiz Bang Bar
It may be $8.50 for one sundae, but this second project from the owners of Salt & Straw brings passion—right down to the fluffy bread toasted to order and the exquisite jelly sauce. Wiz Bang's soft serve hasn't seen the mass love that Salt & Straw has... use your status as a newcomer to show it's worth keeping. At Pine Street Market, 126 SW 2nd, saltandstraw.com/wizbangbar