Queer Issue 2016
HUNDREDS OF PEOPLE in the Portland LGBTQ community and their allies gathered on Sunday evening, June 12, to mourn for and honor the 49 people killed over the weekend at Pulse nightclub in Orlando, Florida—the scene of the largest mass shooting in modern American history. Here are a few of their pictures and words.
Sponsored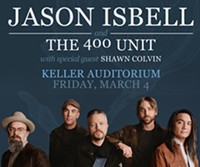 Jason Isbell has established himself as one of the most respected songwriters of his generation. Don't miss Jason Isbell and the 400 Unit, March 4th at Keller Auditorium!
DANIEL: "People are targeting others for the way they live, for something they don't like, something that doesn't hurt anyone. That's the world we live in—but coming to events like this, it's great to see that there's so much support for the community."
VINAY: "I'm extremely sad that some people think they should kill people like me. I recently came out to myself as gay, and while that's still hard to accept, it's worse to know that people are ready to kill because someone is gay."
---
JOHNNY (middle)
Doug Brown
"It's devastating. It's a direct attack on our divinity, you know? I'm without words."
---
"It's a reflection of what's going on in the world and how much needs to change. You see it happen to other groups, but when it hits your home community—that's why so many people are touched by it."
---
HANNAH: "It's just another manifestation of the phobias surrounding the LGBT community. All the violence is coming to a head. After the bathroom bill thing, all the anti-LGBT legislation—and then this happens? It's really disheartening and makes me sad for the future. I feel super thankful I live here. I've been around the country, and it's not all like this area."
JUDY: "Gay clubs are supposed to be a safe space. You go to be with your peers, but to have that targeted and have that space taken away, with so many other places that are inaccessible? It's just... yeah."
HANNAH: "They go to gay clubs to feel safe and have a sense of people who accept them. Now those places aren't safe. What are we going to do about that? Nothing's safe, you can't escape the violence any more." 
---
NIKOLAI: "I think the most obvious thing that can be done is remove assault rifles and automatic weapons from the market, across the board."
JEFFREY: "Someone lost a brother, a sister, an aunt, an uncle, a child. Someone hurt them without any real cause. Lives matter. If your opinion is more important than the lives of other people, you can keep it to your damn self."
---
"It affects everyone.  It's a turning point in the gay community and I think that—sorry I'm overwhelmed—because it happened during Pride, it's time for people to take a stance against violence directed at this community. I feel that we all need to stand united with them and support them. We need to be heard and we need to get louder."
---
"In another place and time that could have been me. That could have been my kid's father. That could have been my friends and my family... today's been really hard."
---
PETAL: "There's no excuse, no reason for this. We live in such a queer-friendly culture, and we forget about the rest of the world where this shit is still happening and people are being murdered for being themselves."
TRIXIE: "It's a misunderstanding, it's not compassionate, it's growing up without the understanding of equality."
NIKKI: "It's a horror, and I fear what the politicians are going to do with it. I'm really focused on racism not taking over and being part of the story. One person's actions do not speak for a group of people."
NINA: "My community is getting killed. That's what it means. It's absolute shock and fear. I'm tired, I'm just tired that this is happening."
ERIC: "Every time something like this happens, it starts with fear. Every single time, no matter what beliefs they hold. The worst thing we can do right now is give into fear. It's scary, but bravery is being scared and living through it anyway. Just make sure you don't go down the same path those people do. Go love your friends."