The Food Issue 2016
IT'S A WELL-KNOWN FACT that chefs and food writers slum it on junk food in their off hours. No one really talks about it, but we've all been there: elbow-deep in a bag of Taco Bell Quesarito Supremes or crushing an entire tub of Cheez Balls. It is our shared shame. (Chefs! They're just like us!)
Sponsored
Sketch comedy troupes from all over N. America descend on The Siren Theater for 3 glorious nights.
It was in such a mindset that I found myself drunk one evening and Facebook-messaged a bunch of restaurant folks—Bunk's Tommy Habetz, Mae's Maya Lovelace, and many more very refined palates—about how funny it would be to get some of Portland's biggest culinary talent together for a Totino's Party Pizza party.
The plan: Fancy up plain frozen cheese pizzas using only ingredients that can be bought in a convenience store. To my surprise and elation, people were on board.
Late on a Thursday, we all hit the Cully 7-Eleven to select our toppings, got a shot or three at the strip club next door, then rendezvoused at Pizza Jerk (before anyone asks, this was weeks before the tragic fire that closed the restaurant indefinitely). What follows is an account of what happens when people who know food are given a blank slate (frozen cheese pizza) and the proper lubrication to fuck it up. Here is what our evening wrought.
Tommy Habetz, Pizza Jerk, Bunk
Our gracious host created a savory delight by draping creamy shrimp-flavored Cup O'Noodle over his pizza. (I, too, used noodles as a topping, putting the "uh-oh!" back in "Uh-oh, SpaghettiOs!") Tyler Hauptman, also of Pizza Jerk, helpfully plied us all with hamburger- and hot dog-flavored Pringles.
Paul Willenberg, Sake Sommelier and Independent Pizza Wizard
Paul wowed us with his quadruple-whammy of pizzas. The first was topped with macaroni 'n' cheese and shaved Slim Jim. The next was a tribute to Buffalo wings, topped with deboned chicken wings basted in Tapatío and melted butter. Third was a nod to the Frito pie: canned chili, Fritos, crushed Funyuns, and extra cheese. For his grand finale, he created the Fried Elvis: He scraped off the sauce and cheese, opting instead for peanut butter. He topped the whole affair with crumbled bacon, banana slices, and a drizzle of honey, then deep-fried it.
Maya Lovelace, Mae
Maya dazzled us all at the 2015 Mercury Chili Jamboree with her winning five-pork chili topped with pimento cheese and cornbread croutons. This time, she created a work of staggering brilliance by topping a pizza with chicken nuggets glazed with a piquant agrodulce of peach-flavored Four Loko. Call it Tso Loko, if you will. She made another one with Supreme pizza rolls and Nitro-flavored Takis. SHE SMASHED THAT SHIT TOGETHER INTO A SANDWICH. And then she garnished with cocktail umbrellas.
Doug Adams, Imperial
Doug was there for moral support, to assist with the deepfryer, and to bathe everyone in the sweet stylings of Billy Joel at the karaoke bar.
Benjamin Skoch, Cat Food Is People Food Too Foundation
Industry insider/gadabout Ben went rogue by using Bagel Bites instead of Party Pizza, and then he demolished all of society's rules by topping them with salmon dinner Fancy Feast "câté" and RoxyLean Ultra diet pills. He redeemed himself by having the intestinal fortitude to actually eat one; he reported that it tasted "like a recently deceased tabby with an Adderall problem, with undertones of sauce and cheese."
William Oben, Park Avenue Fine Wines
Professional lush William treated us to a veritable porcine feast, using a Holy Trinity of deep-fried Vienna sausage, deep-fried prosciutto, and pork rinds, then topped it all with melted string cheese and honey. He said later: "That's what 40K in culinary school gets ya!"
Ian Wilson, Fenrir
Ian gave us a nod to the taco pizza by sprinkling sliced hot dogs, pork rinds, and jalapeños on top. (My version of the taco pizza, topped with lettuce, jalapeños, salsa, and jarred queso was soundly ignored by tasters.)
Jesse Card, Bit House Saloon
Bringing some sweetness to the party, Jesse topped a pizza with chocolate-covered pretzels, peanut butter cups, spicy chicharrones, and string cheese, finished with chili flakes, and paired with Dramamine and sleeping pills (to combat the spins and guide you to slumber), and a Black Ice-scented air freshener tree (which smells like a deadly road hazard).
Andrea Damewood, Our Gal Friday
The Merc's own restaurant critic went full Top Chef with a Flamin' Hot Cheeto-crusted pizzarito. First she disemboweled a beef, chili, and bean burrito, smeared it across the top of the pizza, and then topped it all off with salsa and Tostitos salsa con queso. She rolled it back up and ushered it into a deep-fryer, which, confoundingly, did not improve the situation. We ate it anyway.
Let us hide our shame no more; let us confidently and communally pleasure ourselves in the porn theater of bad food.
Sponsored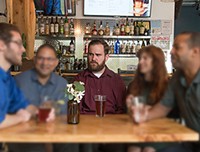 Adults aged 18-35 with good hearing will be paid for their time. Located at the Portland VA Medical Center