The Food Issue 2016
I DON'T VISIT our city's many farmers markets often. I never do, in fact, and I refuse to be denigrated or belittled for that. We all have our own Portland.
But I'll be damned if I wasn't charmed by the clichéd loveliness of the King Farmers Market (NE 7th & Wygant) on a recent Sunday. Strolling through with my big cotton market bag, chatting up vendors about the particulars of kale, purchasing artisanal sauerkraut on a whim: It's the most Portlandia fucking Portland imaginable, but it's nice.
It was an expedition of necessity. Tucked discreetly under my arm—and sometimes conspicuously, embarrassingly in view of my fellow market-goers—was the new Portland Farmers Market Cookbook. This hefty new offering just rolled out in honor of the 25th season of the Portland Farmers Market, which got its modest start on the banks of the Willamette in 1992, and today features seven markets and hundreds of vendors. (The city has dozens of independent farmers' markets, too.) The cookbook's got 100 recipes, arranged by season and submitted by local restaurateurs and other gustatory dignitaries.
I can vouch for two of them. In a bit of half-blind flailing that serendipitously turned into a pan-Asian delight, my fiancée and I wound up cooking a simple and delectable keema matar—a North Indian dish—and a more frustrating, yet still slamming, batch of Swiss chard and spinach pies inspired by Lebanese cuisine.
How did we arrive at this menu in a cookbook stuffed with dozens of fine-looking dishes? The way the kombucha-swilling farmers' market deities intended—by wandering aimlessly about until we found enough ingredients to justify cooking a recipe we thought we could handle.
See, the very title of the Portland Farmers Market Cookbook implies an ideal you're not going to achieve. Root as you might through the stalls of your favorite vendors (dodging rogue toddlers all the while), you're not going to turn up everything you need for any one of these recipes.
But you do as I did: your very best.
For the keema matar—essentially ground meat sautéed with peas and spices, and submitted by Thali Supper Club chef Leena Ezekiel—we picked up Oregon-raised ground lamb, and local onions and garlic. Peas, a signature part of the dish, were nowhere to be found. We went for a frozen varietal, and while we were at it raided the spice racks of our neighborhood Fred Meyer to elevate the dish.
We had about the same success with the pies, which are the very same as what's served at SE Belmont's Hoda's. Spinach, Swiss chard, and fennel were readily available, but the King Farmers Market, for all of its charm, refuses to stock the Pillsbury pizza dough that was instrumental.
If you cook these dishes, and I suggest you should, you'll find the matar a straightforward sauté job, not unlike pea-festooned taco meat. For people of our cooking acumen—which I guess I'd call insouciant?—it was almost too easy. Make some rice on the side, or pick up some naan, and you're all set.
The hand pies, though, take some doing. After the seemingly endless chopping of spinach and chard, you want to let the mangled leaves sit for a piece, soaking in lemon juice, fennel, and sumac (which is bitter and purplish/red). Make more than you plan on putting in the pies! It all mixes into a tremendously tasty salad.
The real challenge is figuring out how best to purse that chard mixture into the pizza dough, which doesn't stay closed for anyone. You will start with visions of fancy pastry shapes dancing in your head. You will fail at all of these, as your greens insist on bursting forth from even the most tightly pressed seams. Eventually you will settle on the simplest of fold-overs.
It will still be delicious. How could it not be? It came (mostly) from the Portland Farmers Market.
---
Portland Farmers Market Cookbook
by Ellen Jackson
(Sasquatch Books)
Sponsored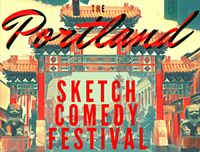 Sketch comedy troupes from all over N. America descend on The Siren Theater for 3 glorious nights.