The Food Issue 2016
SOMETIMES, DEAR READER,
when two Portland companies like each other very much, they get together and make a collaboration. Now, sometimes those collaborations are little abominations, products of a clearly intoxicated mating (ahem, Voodoo Doughnut Rogue beer). But more often than not, a beautiful new hybrid is brought into the world, showcasing the best that its parent ingredients have to offer.Here're a few of our favorite mashups between Portland's best chocolatiers, sommeliers, distillers, brewers, and chefs, which have been created in the unholy name of hedonism:
---
Drink
Kachka and New Deal Distillery: Horseradish Vodka ($27.95)
This horseradish-infused vodka's yellow-tinged liquid, studded with ground root, looks like an organic Goldschläger in the sun. Radiant. This pairing between Portland's premier restaurant for all things Russian and vodka and New Deal captures the biting heat of the spicy root and the smooth liquor just as well as Kachka's in-house shots do. Obey the label: Keep it in your freezer at all times.
Townshend's Tea and Thomas and Sons Distillery: Smoke Tea Liqueur ($30)
Shortly after this was released last summer, I accidentally broke a bottle in my hatchback—my Honda was redolent of smoky liquor for weeks. I was not mad about it. The Smoke Tea Liqueur is part of a series of liqueurs that include a lovely Sweet Tea, a bracing Bitter Tea, and a too-strong White Rose blend. But the Smoke Tea, with pine-smoked Lapsang Souchong, Pacific Northwest honey, and Rooibos tea, was lovely over ice all by itself.
Enso Winery and Pacific Northwest Berries: Portland Sangria ($19.99 for four)
Okay, so this summer in a can is actually just from the mind of Southeast's Enso Wineries—but it's made with considerable help from Mother Nature, who provides the local tart and sweet berries that blend with the winery's rosé and carbonation. The result is a challenge to the Underwood wine-in-a-can empire, and has far less alcohol, making it a river sipper for sure.
---
Chocolate
Whylder's Craft Chocolate and Coava Coffee: Single Varietal Bar ($3)
Oh boy, this bar's got a pedigree. Made from a single varietal Rugoso cacao wild-harvested in Nicaragua, it's roasted and created from bean to bar in Portland. It's then topped with seasonal, single-origin coffee from Coava. No wonder it's exquisite—and that it's $3 for a half-ounce bar.
Alma Chocolate and Pendleton: Campfire S'mores ($10)
Pendleton does nothing here except add some stylized stripes to the box and legitimize this urban chocolatier's outdoor cred. I DO NOT care. This mashup was a thing before the national s'mores obsession grew to the size of the Stay Puft man. There's vanilla all up in that marshmallow, and a serious smoke to the hickory caramel layer. Plus, some of the money goes toward supporting national parks.
Barista's Brass Bar and Cocanu: Brass Bar ($7)
The wrapper around this bar is golden in color, just like the beautiful espresso setup at the Brass Bar outpost of Barista in the Pine Street Market. But that's about where the coffee association ends: This 70 percent dark chocolate confection only has sugar and cacao and pure vanilla bean from Ecuador. I'm not sure why it's a collaboration with Barista, except that it goes great with a latte.
---
Other Treats
Blackbird Food Co. and Bee Local and Jacobsen Sea Salt: Orange Cardamom Granola ($9.95)
I couldn't get through a collaboration list without running into Bee Local Honey and Jacobsen Sea Salt: They partner with other local companies like rabbits in the spring. And these twin companies managed to double-team this Blackbird Food Co. granola. Fear not; it's a great oat-y blend with solid touches like pepitas, orange peel, currants, cinnamon, and chia seeds. It's exotic and inviting, with the salt and honey giving it warmth and depth.
Tillamook Ice Cream and Stumptown Coffee: Cold Brew Ice Cream ($4.99)
Heavy-hitter alert: The primary draw of every sweatpants-wearing tourist on the coast and every seeker of the "Portland experience" downtown have come together to make a darn good pint. It's hyper creamy and is even at Fred Meyer, making this a baby that's available to the masses. Adding just a smidge more coffee flavor is the only thing I'd change.
Bitterman Salt Co. and Sokol Blosser: Pinot Noir Salt ($11 for 2.6 ounces)
Salt master Mark Bitterman of the Meadow has had a pinot noir salt of some form for years. But as part of his line's maker series, he snagged Sokol Blosser's 2012 Dundee Hills pinot and says he worked on it for months to get it just right. The result is a fine-flaked purple-hued salt, which we sprinkled over Cascadia Creamery's raw cow Sleeping Beauty cheese—making a glass of wine on the side (almost) unnecessary.
Sponsored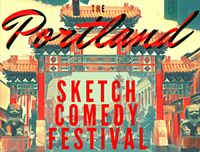 Sketch comedy troupes from all over N. America descend on The Siren Theater for 3 glorious nights.