The Food Issue 2016
SCENARIO: Feeling a yen for your favorite brunch/pizza/ice cream/ramen place, you decide to leave the house for food. You finally find parking, stomach growling so violently you can't tell whether you shut your car off, hop out and walk around the corner, only to collide in a full-on vertical spooning situation with some other peckish geniuses who had the same brilliant idea.
You're not about to get back in your car and drive to another part of town—you could literally starve to death on the road. Don't worry, we got you. Here's our guide on where to go when you can't wait for hours—and sometimes that second choice is better than the original.
---
After all these years, John Gorham's Toro Bravo has still got it. But show up at opening time, and you can't even see the sidewalk through the hungry bodies. Cross your fingers and go the short distance to N. Williams, where another Gorham project, Tasty n Sons, might be a little more manageable at dinner. It's not as fancy, but the garage door rolls up and some fried chicken and hush puppies sound amazing.
But alas, there's a wait there, too! Double back to the People's Pig. When you bite that smoked-then-fried chicken sandwich for the first time, you'll forget that you even started this whole venture searching for potatoes bravas.
Tasty n Sons, 3808 N Williams,; The People's Pig, 3217 N Williams
---
You arrive at Tin Shed on a crisp weekend morning to find that most of the seats are taken by golden retrievers and French bulldogs, many of which have more Instagram followers than you do. Bummer! Double tap some of their photos on your walk north to the inexplicably chill brunch at Podnah's Pit. Make the pretty pups on NE Alberta jealous with an Insta of your pile of #brisket and #eggs, #Austin-style #breakfast #tacos, or—oh god—#biscuitsandgravy.
Podnah's Pit, 1625 NE Killingsworth
---
The sun's shining and you've decided to take an afternoon to relax with a cold beer on a fun patio somewhere north, away from the crowds. Or so you thought! Breakside's patio is a writhing sea of sticky-fingered children and bicyclists sweating beer through their Lycra. It's all right, because just down the street is the city's best-kept beer secret: the P's & Q's Market michelada. A Negra Modelo mingling with spicy, salty michelada mix—it's the more-than-a-splash of citrusy acidity that makes this the summer's top drink. Pair it with a fried polenta sandwich or, during brunch, a breakfast sandwich with coppa or swoon-worthy brisket, and try to enjoy watching the stack of building-block condos being erected across the street.
P's & Q's Market, 1301 NE Dekum
---
If you have your heart set on ramen after whatever horrible event (work, art opening, court appearance, "clubbing") forces you near downtown, but are stymied by the likewise noodle-hungry soup hounds congregating at both locations of Marukin Ramen, worry not! The ramen trend in Portland is so strong now that we as a city are willing to overcome our kneejerk anti-chain-store mentality, so long as that chain is a Japanese ramen restaurant. Thankfully, Marukin's not the only import from Japan's ramen scene, or even the first. Pop over to Shigezo on SW Salmon: Their Tokyo ramen is dangerously underrated. Settle into a less cafeteria-like setting—one more suited to the kind of intimate drinking and soup slurping you're interested in.
Shigezo, 910 SW Salmon
---
Love eating outside on a nice summer afternoon? Duh. But do you love hippies meditating and doing yoga, and the pretend-classless class loudly comparing a favorite bargain rosé to the domestic beer du jour? Of course you don't. At North Portland's other "secluded" park, Kelley Point, there's enough room to avoid any kind of nonsense. And you can still enjoy the sights of the Port of Portland, but with the added bonus of having your feet in your choice of rivers, the Columbia or Willamette. (Pro tip: Get the aforementioned P's & Q's Market to pack you a picnic—you even get to borrow a cute basket!)
Kelley Point Park, N Marine & Lombard
Sponsored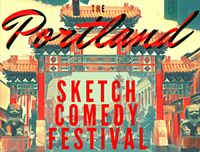 Sketch comedy troupes from all over N. America descend on The Siren Theater for 3 glorious nights.