The Food Issue 2016
IT'S NOT A MARKETING MYTH: Radler really means cyclist in German.
So it stands to reason this is the beer—or beer cocktail more precisely—you drink when you don't wanna get a BUI, since the alcohol content typically ranges from 2 to 4.5 percent. But being relatively biking safe doesn't fully explain why this fruity blend is blowing up. This year, many more Portland and national breweries are riding the radler's popularity.
Let's get this out of the way up front: There is absolutely no difference between a radler and a shandy. Think of the radler as a German lager mixed with soda or some other soft drink, and the shandy as its British twin, an ale blended with lemonade or some other soft drink.
For years, Austria's Stiegl-Radler has held domain over the summery, fruity, low-alcohol category. And the state where the Stiegl-Radler is sold most? That would be Oregon, says Christopher Barnes, Point Blank Distributing's director of imports. Little old mid-sized Oregon drinks more of the grapefruit soda/beer hybrid than even California, our neighbors with actual grapefruit groves.
By Barnes' account, more than nine in 10 Stiegl beers enjoyed here are the radler. Barnes says he's ordered at least 16 containers from Austria for the year—each of those holds 20 pallets of 72 cases of tallboys. And that's before he counts the additional bottles and kegs.
"I think a big reason [we] like them is they're fun, taste good, and make for a nice break from higher alcohol options," Barnes says.
But now the 2.5 percent alcoholic refresher has got American competition. Not just from Anheuser-Busch's Shock Top Lemon Shandy (or 10 Barrel's Swill, which was replaced by the pineapple-y Piña this year), but plenty of local brewers. Bike-centric Hopworks has long offered a radler at their pubs and now sells their 2.6 percent ABV Totally Radler in tallboys. And Widmer sells their Hefeweizen made with Lemon Drop hops (a real varietal) and a distillate made from lemons.
Restaurants and bartenders are also getting in on the fruit frenzy. LeChon on SW Naito briefly crafted a Grilled Radler with Breakside's pilsner, vodka, and grilled lemons in lieu of lemonade. Produce Row Café unveiled Gustav's RadBeer, incorporating Hop Valley's lager and a house radler mix with grapefruit cordial and juice.
The Northwest Radler is a soda/beer collab now available at all six Hotlips Pizza locations. Made up of 20 percent Blood Orange soda and 80 percent Migration Brewing's PDX Kölsch (it's actually a high-gravity version of the kölsch that's usually 4.3 percent ABV), the blend clocks in at 4.5 percent ABV. Because they wanted their radler to be heavier on the beer side, the concoction is less like the sweet, pulpy sodas Hotlips is known for, and tastes more like a citrus-accented IPA. A pint runs $4.75; a pint of straight soda runs $3.75. (In August, Hotlips will be rolling out their own hard sodas, starting with Red Raspberry.)
Lemon and grapefruit are classic radler pairings, but purveyors aren't chained to the basics. Take Culmination Brewing and Jasmine Pearl Tea's Sun Rey, a 4-percenter that debuted at the Portland Fruit Beer Fest. Jasmine Pearl is catty-corner to Culmination Brewing in Northeast Portland, and when owner and brewmaster Tomas Sluiter got hold of their Pearl Soda Company brand Lime Twist syrup made from Green Rooibos blended with lemon myrtle, lime essential oil, and ginger, he and his team made a kettle-soured golden ale to complement the tartness, and then added blackberries and raspberries.
Finally, there's one other hotly anticipated radler coming soon. Portland Soda Works' (PSW) founder Chris Onstad—the Mercury's own former restaurant critic—approached the Commons Brewery about riding tandem on such a project. "We tried different blends," says the Commons' brand manager, Josh Grgas, "but the Myrtle Radler really shined."
Myrtle is the brewery's already light and lemony tart farmhouse ale, which is blended with PSW's hibiscus cardamom syrup. This offering will be available in the tasting room only, and definitely piles on a new layer of delicious refreshment. Grgas says, "It'll blow the socks off these beer-drinking kiddos." (Grown kids only: No minors are allowed in the tasting room.)
Culmination Director of Brewing Operations Conrad Andrus adds, "I think that Portland wants to see real fruit beers and variations on the style." Given how popular radlers and shandies are, it's hard to argue.
Sponsored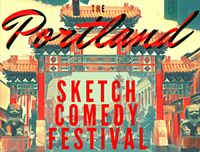 Sketch comedy troupes from all over N. America descend on The Siren Theater for 3 glorious nights.