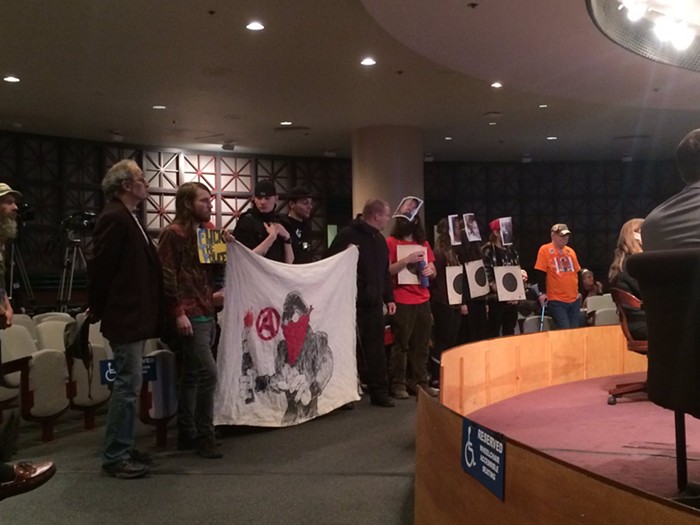 This post has been updated with remarks from Commissioner Nick Fish.
Even in the context of increasing protest we've seen in Portland City Council meetings since late in Charlie Hales' term, yesterday was striking.
Inspired by news a Portland police officer won't face criminal charges for killing a Black 17-year-old, demonstrators laid into council—and particularly Mayor Ted Wheeler—with ongoing streams of profanity, even as Wheeler urged people to continue their testimony.
Pretty sure that's the first time I've heard "suck a dick" uttered in City Council testimony. So that's how this hearing is going.
— Dirk VanderHart (@dirquez) March 22, 2017
That hands-off approach appears to have rubbed one commissioner the wrong way. Sonia Schmanski, chief of staff to Commissioner Nick Fish, sent a terse but meaningful email to other council members and city officials in Fish's sphere of influence this morning. It read simply:
Until further notice, Commissioner Fish has directed that his bureaus, bureau staff, and our office employees do not attend any future Council meetings held in the Portland Building.
That means that until Fish gives the high sign, employees of the Portland Water Bureau, Bureau of Environmental Services, and staffers in Fish's own office won't be allowed to attend council meetings (which are slated to be held in the Portland Building through mid-April). That matters a lot if, say, council needs to hear about the background of a major Water Bureau acquisition before voting on an ordinance.
"Yesterday was the worst council hearing I've attended since I was elected," Fish tells the Mercury. "I thought the behavior of a small number of people at the hearing was disgraceful."
He notes that the matter council was considering, a largely symbolic resolution to announce Portland's status as a sanctuary city, had attracted "peace and justice advocates from around our community."
"Many of them left or, if they testified, could barely be heard," Fish says. He declined to lay out steps that need to be taken before he'll rescind his order, but said he was hopeful the matter will be resolved before next week's Wednesday council hearing. Fish hasn't begun making plans to push off scheduled Water Bureau or BES hearings, he says.
"The mayor is working to find the right solution and I applaud him," Fish says. Wheeler's office hasn't returned our inquiry.
Fish's move is the strongest we've seen from any commissioner's office, but perhaps not a surprise. Fish more than most has voiced concern for the insults his employees have been subjected to amid the outbursts (which is not the same as saying other commissioners don't have those concerns). One of Fish's employees also recently obtained a restraining order against one frequent City Hall attendee, David Davis, after he said Davis challenged him to a fight.
Still, Fish's decision is similar to at least one recent decree. Following an outburst at a meeting of the Independent Police Review's Citizen Review Committee last year, then-Police Chief Larry O'Dea told his officers not to show up to the meetings.
After yesterday's meeting, Fish told the Mercury that council meetings would need stricter rules going forward.
Of course, Wheeler has said he'd like that as well. That's part of the reason the mayor pushed a new ordinance allowing him to exclude repeatedly disruptive audience members from meetings for a month or more. But that ordinance, before it goes into effect, will need the sign off of a federal judge.
In the mean time, Wheeler has said he will more liberally eject disruptive attendees from meetings on a day-by-day basis. He didn't do so yesterday.
For a sense of how things got, skip to the 1:22:50 mark of this video (NSFW, weirdly).