Sponsored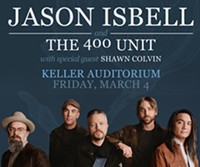 Jason Isbell has established himself as one of the most respected songwriters of his generation. Don't miss Jason Isbell and the 400 Unit, March 4th at Keller Auditorium!
Kesha has received a tremendous wave of support since her injunction against producer/abuser Dr. Luke was denied last Friday. Unfortunately, the subsequent outrage of her fans and fellow celebrities also inspired a tsunami of trolls questioning the validity of her accusations against Dr. Luke.
To recap: Last week's decision was the first battle in a legal war that will determine whether or not Kesha must continue recording with him under her contract with Sony. Her evidence of Dr. Luke's sexual abuse was dismissed by the judge, highlighting an underlying problem in the way the American legal system handles rape (and all instances of sexual harassment/abuse of women, really). Her evidence is being called into question in part because she didn't come forward to report Dr. Luke's abuse as it was happening. But oftentimes survivors of sexual assault don't feel safe or comfortable coming forward because they're afraid, ashamed, etc (more on that here). Someday, hopefully, we'll live in a world where survivors won't be afraid to report assault because we'll have developed an infrastructure in both our culture and legal institutions that will be designed to hold perpetrators accountable and protect victims. But that's not what we're working with these days.
While Kesha wouldn't necessarily have to record with Dr. Luke as her producer, the six albums her contract dictates she must make before she is free to record elsewhere would have to be released through his label Kemosabe Records (Sony is Kemosabe's parent company). So for those trolls arguing that "he invested a boatload of money into her career" and "she won't even have to work with him"—she would have to work FOR him. Hopefully this goes without saying, but a survivor shouldn't have to work for their rapist, or a company that has shown nothing but unwavering support for their rapist, especially given Kesha's claims of his ongoing abuse.
Side note—if you don't believe Kesha's allegations of sexual abuse/harassment against Dr. Luke, please let me direct you to a website you might feel more comfortable reading.
On the bright side, Taylor Swift has donated $250,000 to Kesha following last week's ruling, and yesterday Kesha released the following statement on her Facebook page. "All I ever wanted was to be able to make music without being afraid, scared, or abused," she says.
I'm so, so beyond humbled and thankful for all of the support I'vereceived from everyone. Words cannot really express...
Posted by Kesha on Wednesday, February 24, 2016