Looks like the Oregon occupiers won't be setting up shop in the state's revised statutes after all.
Sponsored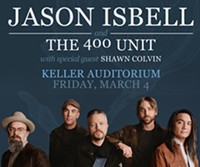 Jason Isbell has established himself as one of the most respected songwriters of his generation. Don't miss Jason Isbell and the 400 Unit, March 4th at Keller Auditorium!
Senate Democratic leaders say they likely won't address a bill that would allow law enforcement around the state to shield the identities of officers who are facing a credible threat to their lives. That bill, House Bill 4087, has been pushed in rushed fashion, after the killing of anti-government militant LaVoy Finicum last month. The Oregon State Police say officers involved in the January 26 shooting will become targets if their names are released to the public.
As we reported this week, the bill sailed through the state House of Representatives with minimal opposition. Even the ACLU of Oregon took a "neutral" position, after chipping away at some of the bill's provisions.
But as relationships between Senate Democrats and Republicans strain to a bizarre extent this session, Democrats who run the chamber now say it's not likely the bill will make it out of committee.
"It's probably not going anywhere," says Rick Osborn, a spokesman for Senate Democrats. "It hasn't been scheduled, time's tight, and it's a complicated issue."
Osborn had declined comment on the bill's prospects earlier this week. The Oregonian first reported this afternoon that HB 4087 is likely dead in the water.
That death would be welcome news to Portland police accountability advocates, who worry that legislation crafted for a specific situation could have widespread and unwelcome effects—such as delayed release of the names of officers involved in shootings.
Bills similar to HB 4087—many far more wide-ranging—have cropped up around the country in recent years, as tensions over police transparency have boiled over in the wake of high-profile shootings.