What I like MOST about Fade To Light is in the title; "a multi dimensional fashion show." Every designer kicks off with a "teaser" video that let's us know what we're about to see live. For example, Elizabeth Mollo (FTL's producer and a Merc contributor), is a big Bowie fan, and this year she gave us an extra special treat. Early 2016 was a tough year for celebrity deaths, and one of the hardest was the passing of David Robert Jones. Elizabeth made sure to give her own special homage to the "man from outer space," which was a touching gesture that I couldn't help but get a little misty over.
Sponsored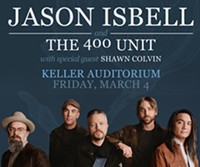 Jason Isbell has established himself as one of the most respected songwriters of his generation. Don't miss Jason Isbell and the 400 Unit, March 4th at Keller Auditorium!
But back to the fashion: I really can't speak enough about how inspired FTL always makes me feel. I always leave with a new (re)found energy for Portland fashion. I feel proud, creative, and I'm ready to give my support all over again!
I could go on and on about the whimsy of Tiffany Bean, and how I think we should put giant poms on everything! Or how Lars Kemp is the ultimate uniform for the Portland "cool girl," and don't EVEN get me started on her choice to bring out 11 Dance Co. dances for her finale, oy vey! What about WEST DAiLY nailing an all white mens ensemble that is reminiscent of Yeezy seasons past and present? Then there's Altar, the line from fellow Mercury contributor Cassie Ridgeway, who we can always count on to deliver the most flattering lines for women of any size. You got to love that!
MORE PICS AFTER THE JUMP>>>
What I'm not going to go on about is how I didn't think Stephanie D fit into the mix. Okay, fine, here's the deal: If FTL is going to do bridal (yawn), I want bridal for the Portland "cool girl" I spoke of earlier. You know, the women who wouldn't be caught dead wearing a white gown with sequins, but would wear a romper on her big day, or even...black.
Other noteworthy items: It was good to see Ms. Wood back in the mix (it's been three years since she last showed). And Rouge:Minx managed, once again, to keep her sexy goth aesthetic while throwing in some high wasted denim that reminded me of the sailor pants I used to thrift, but with a super cool cut out detail on the waistline. I would definitely take her styling tip and pair these with a bodysuit. Yeah, that's a good look Portland! Hopefully I'll see it on the streets soon!