After weeks of voluntarily suspending the metal amid public outcry, Bullseye Glass is burning cadmium again. The Oregon Department of Environmental Quality tonight tweeted out a notice it received from the Southeast Portland art glass factory. It says Bullseye has installed a "baghouse" pollution control device that can catch particulates before they enter nearby air.
"We will be resuming usage of raw materials containing cadmium in the controlled furnace," reads the short letter from Bullseye Controller Eric Durrin.
Sponsored
Win a behind-the-scenes tour of our kitchen, see how we make our artisan edibles, and get some swag.
DEQ rec'd ltr 4/11 from @bullseyeglassco who installed pollution control tech. (99% effective); resuming use of Cd. pic.twitter.com/kcVOfKmvQZ
— OregonDEQ (@OregonDEQ) April 12, 2016
The addition of pollution control devices on exhaust flues is a crucial step for Bullseye, which employs the devices to protect workers within its factory, but until now hadn't used them to block chemicals like chromium, arsenic, and cadmium from entering the air. That became an issue in February, when the Mercury first reported the results of air monitoring around the factory showed alarming levels of cadmium and arsenic. We also reported that the company hadn't used pollution controls, and would send workers to its rooftops once a week to sweep up sizable accumulations of glass dust.
Following weeks of ongoing anger over the revelations, Bullseye and another Portland glassmaker, Uroboros Glass, ceased burning problem chemicals, even though state regulators had no authority to force them to do so. State officials have since said air quality near both facilities has improved, and rescinded earlier warnings that neighbors shouldn't eat vegetables grown in their gardens.
The DEQ is in the process of working up new regulations that Gov. Kate Brown recently vowed would take people's health more into account. Local officials have also mulled the idea of creating local air quality regulations.
MORE COVERAGE:
•The DEQ Nearly Pinpointed North Portland Glass Factory Pollution Seven Years Ago
•State Finds Alarmingly High Arsenic, Cadmium Levels Near Two SE Portland Schools
•Too Cozy? A DEQ Air Quality Official Apparently Vacationed With An Attorney Representing Industry
•Oregon DEQ Director Dick Pedersen Resigns Amid Air Pollution Concerns
•Bullseye Glass Has Suspended Use of Arsenic and Cadmium Because of Air Quality Concerns
•Portland Public Schools Is Ordering Air Tests Because of Arsenic, Cadmium Concerns: "We Need A Public Meeting"
•Soil Near Bullseye Glass Contains Arsenic and Cadmium—And Other Things Officials Told Parents Thursday

•Essential Pollution Controls Lacking at Two Glass Plants Blamed For Cadmium Emissions
•Bullseye Glass' Sales Were $19.8 Million Last Year. Pollution Controls Would Have Cost A Tiny Fraction of That.
Sponsored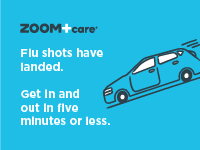 ZOOM+Care makes flu shots easy and safe. Schedule ahead, skip the line—get in and out in 5 minutes.