It's almost impossible to imagine the Hawthorne Strip—much less Dino's—where they once stood. For the past two-odd weeks, the Toffee Club has reactivated that corner of SE Hawthorne and 10th after a massively spiffed-up overhaul with their modern take on the concept of the English soccer pub.
Sponsored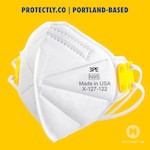 We have USA Made N95 masks available. Order N95, KN95, Surgical, Face Shields, Thermometers. Click here and USE CODE MERCURY FOR EXTRA 5% OFF.
A joint venture between Niki Diamond, her husband Pete Hoppins, and his brother Jack Hoppins—the Toffee Club's name is a reference to the Hoppins boys' local soccer team back in England—its nods to pub traditions are selective: a Scotch egg, full breakfast, and fish 'n' chips are all on the menu (which is otherwise dominated by savory pies), but the decor eschews dark wood paneling and Guinness mirrors in favor of a flood of natural light and bright walls printed with palm fronds. What's unwavering is its intention to cater to fans of soccer football, with a handy calendar of game screenings kept updated on the web site—though they are also hosting a screening party for the season premier of Game of Thrones and experimenting with DJ'd dance nights.
In keeping with the custom of pub as community gathering spot for all, the Toffee Club also serves minors till 8 pm (and opens its doors for breakfast at the ungodly hours of 7 am Saturday and 8 am Sunday to accommodate English airing times).
Toffee Club, 1006 SE Hawthorne