Via Reddit, here is an actual story currently on an actual local news organization's website. From KPTV:
Sponsored
Win a behind-the-scenes tour of our kitchen, see how we make our artisan edibles, and get some swag.
And here is the entirety of that story:
FOREST GROVE, OR (KPTV) -Monday's warm weather brought out a couple of mermaids, and even a dinosaur.

A boy in a custom-made dinosaur costume was seen wandering around the Rogers Park area in Forest Grove on Monday afternoon.

A Fox 12 viewer says he scared some girls while on the play structure. One of them came back later to snap a photo, which he graciously posed for.
I think this calls for a poll.
Sponsored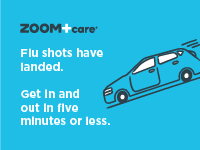 ZOOM+Care makes flu shots easy and safe. Schedule ahead, skip the line—get in and out in 5 minutes.