Sponsored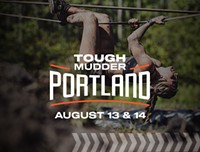 Lock in your summer adventure, Portland. Join us for world famous obstacles over a 5K or 10K distance.
There was one major hiccup at Wednesday evening's Citizen Review Committee (CRC) meeting, where they were supposed to hear an appeal by a man who said he was unfairly roughed up by the police: Nobody from the Portland Police Bureau showed up.
And so frustrated members of the CRC—a volunteer offshoot of the auditor's Independent Police Review (IPR)—voted to legally compel the bureau to show up for the next meeting on May 4. If they skip again, IPR Director Constantin Severe explained, "that would be a violation of city law."
It was the first time the CRC has ever had to do that in Severe's eight years with the city, and possibly ever, he told the Mercury.
Most of the committee had thought police would be there until earlier in the day. The CRC installed new safety rules in the wake of the highly chaotic March 30 meeting that saw an activist in the crowd throw a cup of water on one the two CRC members who sided with cops in a complaint appeal that day. Chief Larry O'Dea wrote a memo the day after that meeting declaring "I can no longer support having my employees participating in this environment unless and until steps are taken to address my serious concerns."
The CRC cancelled its April 6 meeting to come up with some new policies. When they came up with new rules (security guards on hand, a cordoned off area for audience to sit, not allowing folks to roam around the room, ejecting disruptive people, and more) they thought it would be enough to appease the police bureau, whose members never liked showing anyway.
It was not.
"It is the bureau's position that we have not done enough, or have not clearly stated the security procedures that we'll be operating under, and they cannot support the attendance of their members," announced CRC chair Kristin Malone. "Which makes hearing an appeal difficult."
According to an email Acting Police Chief Donna Henderson (O'Dea is out of town) sent Malone an hour before yesterday's meeting, the police are still afraid to show up to CRC meetings because that activist threw that cup of water on a committee member the last time (that CRC member, James Young, survived the water dousing and was back, dry as a bone, participating at this meeting). Malone read Henderson's email out loud at the meeting (this is a transcription of Malone reading Henderson's email, so some punctuation will likely be different than what was sent; bolded text and links are mine):
Thank you for expressing our concerns to the Citizen Review Committee about the lack of procedures that would make appeal hearings safe and productive. It is unfortunate that the CRC has chosen to proceed with the hearing tonight given those concerns. The CRC meeting ground rules presented to us on April 18 do not address the issues and are nothing more than what the chair stated verbally during the appeal of case 2015-CO325. Chief Larry O'Dea's memo, dated March 31, 2016, express serious concern over the corrosive and intimidating environment that has been allowed to fester at the Citizen Review Committee appeal hearings. Given the lack of detail in procedures from the CRC appeal process, it is my belief that by allowing any member of the Portland Police Bureau to attend the hearing tonight would be violating the City of Portland human resources administrative rules, in particular 2.02. Therefor we will not be in attendance. I left a voicemail message with CRC member Ramos yesterday, April 19, stating we will not be in attendance. It is my hope the bureau can meet with IPR and the CRC chair to come up with procedures that are fair and transparent to the public, as well as to the members of the Portland Police Bureau. The chief has expressed his willingness to help develop new procedures that would benefit all who participate. As the acting chief, I am also ready to help develop policies for the future to address the issues the issues for all concerned.

Thank you,
Donna.
"What the bureau wants is to continue to push off our hearings because they want to keep talking," Malone said. "I want us to order them to be here."
After some public comment—including from Matt Klug, the man who was appealing the bureau's decison to exonerate an officer and sergeant that he says roughed up him as he was taken into custody in 2014, and wanted the CRC to force police to show up for his appeal—the CRC took a vote on just that.
All seven CRC members voted to compel the police to show up. If representatives from Internal affairs and the officers' commander don't show up on May 4 to Klug's now-rescheduled appeal, it'll be against the law.
"That would be, frankly, a very serious offense as a city employee and police officer," Severe explained of the vote.
"To my knowledge this is the first" time the CRC has had to do this to get police to show up at all, Severe told the Mercury after the meeting. "I've worked for the city close to eight years, this is the first time. I'd never heard of it before. The way the system is based is that the CRC is gonna do its thing, IPR is gonna show up, the police bureau is gonna show up. So, CRC voting to compel command staff to show up to CRC meetings, that is something that I haven't seen. I've never heard of that."
***UPDATE***
We asked Portland Mayor Charlie Hales for his thoughts on the PPB not showing up last night. Here's his statement:
"I'm disappointed IPR and PPB employees failed to sufficiently communicate before this meeting. Citizen Review Committee volunteers deserve respect for their dedication and time commitment. Demonstrating that respect means City employees working out internal communications so the volunteers and appellants can have a productive hearing."
Here's a copy of the motion that CRC members voted on: