People from all over the region and political spectrum flocked by the thousands to liberal Eugene Friday evening to be apart of the spectacle of a Donald Trump rally.
Lines started forming hours before the 7 p.m. event at Lane Events Center to see the Republican presidential candidate and wound around throughout the parking lot for what seemed to be about two hundred yards as the start time neared. So many people showed up, in fact, they had to close the gates to the parking lot and stop letting people in, including a bunch of people who had tickets (which, you know, defeats the purpose of tickets), before it started.
I was among the ticketed people to be left out; I was out covering some protests and talking to Trump supporters and didn't get in line soon enough to be let in. The press credential I requested the day before was not yet approved by the Trump campaign (and as I'm writing this on Saturday afternoon, it's still listed as "pending"). So with no press credential, no access to the event with my ticket, and no perceivable way to get inside without getting shot by the hoards of heavily-armed cops there from law enforcement agencies around the state and Secret Service protecting every inch of the property, it made covering Trump's speech in-person difficult. So for that part, I'll defer to stories from news outlets with employees that did get in:
*Eugene Register-Guard: "Trump prompts cheers, protests with fiery rally"
*NBC News: "Trump Slams Hillary Clinton as 'Nasty, Mean Enabler' of Husband's Affairs"
*CNN: "Trump: Hillary Clinton a 'nasty, mean enabler"
You can also watch the whole event here:
My plan for the time during the rally then shifted to covering protests, which I had been doing for a couple hours already. Here's my dispatch from an evening entirely outside of the Donald Trump rally.
***
The scene outside the rally featured many signs, a lot of yelling, dozens of pointed middle fingers, a number of earnest debates, and no arrests. It was significantly more peaceful and laid-back than when pro and anti-Donald Trump protesters confronted each other a few weeks ago on the Portland State campus, where the threat of violence felt possible and likely the entire time. Towards the end of the event, protesters had a showdown with police as they were blocking one of the Lane Events Center exits, but they eventually left.
I arrived in Eugene shortly before five 5 p.m. and headed to Monroe Park where, according to a Facebook event, protesters would be gathering before the nearby Trump rally. Facebook was right. A bunch of people—students, young parents with strollers and babies in slings, older folks—were gathered there, hoisting signs, speaking via megaphone, and planning peaceful demonstrations outside the rally a few blocks away.
"I don't want Trump here," Akilah Powell, a University of Oregon student who helped organize and lead the protest, told me. "I want people to know that this rhetoric is not ok and that sitting by silently and not saying anything is just fueling his hatred and fueling his supports to be more hateful. The things that have happened at his rallies—profiling and not letting people of color in—are not ok in my America. 'Make America Great Again' means make America white again. He wants us to leave."
Soon, I headed towards the Lane Events Center and I could see why the Trump campaign chose this place. A high, thick fence bordered the entire property: It would be extremely difficult for any protester to get near the arena. And with the amount of law enforcement there, it would be damn near impossible.
At the gates to enter the parking lot to get in line to get inside, a group of anti-Trump folks were chastising the attendees who were passing through to get inside.
"Fuck you," yelled one man-bunned protester to a guy with Trump gear on the other side of the fence. "Suck my dick, asshole!"
The Trump guy, Jake Towe—who, I learned later, is 17, from Sacramento, and there to sell Trump gear with his father and brothers—got up close to the fence and screamed "USA! USA! USA" while making USA hand signals.
On the other side of the fence (I was able to get to the parking lot with my ticket), cops were keeping a watchful eye on everything. I spotted Oregon State Police troopers and police from Eugene, Portland, Springfield, and more. It was very heavily guarded.
The line to get into the rally was massive, about three-wide and winding for what seemed like a couple hundred yards. It was the perfect place to hawk Trump merchandise.
Jake Towe's dad—wearing a red Trump t-shirt, American flag pants, and a red "Make America Great Again" hat—was blasting from his GMC SUV the atrocious "Vote Trump" song by country singer Rodney Carrington and was carnival barking with his megaphone to get people in line to buy his Trump gear.
"Oh, just trying to make a few grand on some t-shirts," he said, after I asked him why he came from Sacramento for this. Is he an actual Trump supporter or just an ardent capitalist? "All of it, all of the above."
How much are you expecting to bring in tonight? "I don't know. There's like 30 other guys out here. I'd be happy if we can pull five grand. It's not going to be a $20,000 night because there's too many guys cutting into my action, you know? But when we're the only guys we do pretty good. I'm a Republican, I like money."
Would you sell merch at a Hillary Clinton or Bernie Sanders rally, just to make some money? "Hell no, those guys are broke. Republicans walk around with twenties and hundreds, those guys walk around flat broke or with dollar bills. It's not even worth the money to do it, to have a bunch of kids with two dollar bills."
Elsewhere along the line, another guy was selling t-shirts that said "HILLARY SUCKS BUT NOT LIKE MONICA", which got hearty laughs from many Trump fans.
Back outside of the gate, a crowd of sign-waving protesters gathered around a Eugene-based mariachi band, which performed mariachi staple "Cielito Lindo" in Spanish and English and the University Oregon fight song, to a big cheer. More folks were waiting to pass through the gate so they could get in the back of the line.
Not long before the Trump rally was supposed to start inside, police announced via a recorded message played through a loudspeaker near the gate that they weren't letting any more people through the gate, even those with tickets. It was too late.
So I just hung outside with the protesters. Police had blocked off a good chunk of West 13th Ave.—the main street outside the arena—from car traffic. With a majority of Trump supporters inside, the vibe outside with all of the protesters became significantly less contentious. It nearly had a street festival feel to it. A house near the main gate blasted great old-school hip hop throughout the evening.
A few anti-Trump students were engaged in heated debates with their counterparts, but most of it was civil and kept in good spirits. People walked up and down the street with their signs, gathering in two main groups a hundred yards from each other.
One anti-Trump protester went all out with his demonstration (see below): a bike with a large American flag in the back, a small one in the front, and a huge fake penis with a Trump mask as its head, rigged with a hose that squirted water from the mask's mouth to mimic ejaculation.
"I just think Trump's a giant dick," he said, laughing, "and I thought of a way to personify that."
"This is a sonotube, a tube for concrete," he explained about the shaft. "And this is a Trump mask, these are a couple of beach balls painted blue. A garden sprayer in the backpack, and then a hose that goes out its mouth—the urethra."
He wouldn't tell his real name because "my fiancé said I can't tell anybody," and identified himself as "Talk and Go."
Meanwhile, a Trump fan drove this truck through the neighborhood near the protest. Multiple people yelled that the driver must have a small penis:

The Trump rally let out at about 8:30. They had no significant clashes with protesters, as most of them left from another exit. The only thing that could have escalated was when police, via a recorded message from that same loudspeaker, told protesters to get out of the street in front of the gate so they could let cars and people out that way.
"PLEASE CLEAR THE ROADWAY FOR VEHICULAR AND PEDESTRIAN TRAFFIC, THANK YOU" the message repeated over and over again. I believe was coming from the Portland police SUV.
Protesters did the exact opposite. They rushed the locked gate, chanted, and yelled at the cops gathered in formation on the other side of the.
There was a mini-standoff that lasted about 20 minutes and eventually petered out as the protesters lost enthusiasm and the police started leaving.
Nobody got arrested and people soon left.
And that's about it, folks.
Sponsored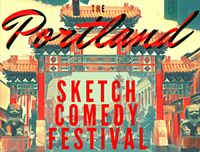 Sketch comedy troupes from all over N. America descend on The Siren Theater for 3 glorious nights.