Sponsored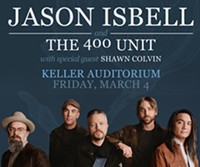 Jason Isbell has established himself as one of the most respected songwriters of his generation. Don't miss Jason Isbell and the 400 Unit, March 4th at Keller Auditorium!
As worries over lead (and other metals) in Portland air threaten to shutter a local art-glass factory, Portland Public Schools suddenly finds itself flirting with controversy over tests concerning the highly toxic substance.
Superintendent Carole Smith revealed in an email to parents this afternoon that Portland Public Schools should have immediately cut off water at fixtures in two schools—Creston and Rose City Park—when six to eight fixtures in each building turned up lead at higher rates than EPA benchmarks.
"The EPA's best practices indicate that once elevated levels of lead are found, those water faucets should not be used for drinking or food preparation until they are replaced and retested," Smith writes. "We apologize for not following this protocol."
That's contrary to what a PPS spokesperson told the Oregonian yesterday.
In addition, the school district waited to tell parents about the tests, which, Smith says, it "regrets."
Lead can cause enormous problems for children who are exposed.
Here's the school district's full letter:
Dear Portland Public Schools Families and Staff,

With the national attention drawn to lead in the water, Portland Public will conduct comprehensive district-wide water testing this summer and will share the results with the community. Two communities, Creston and Rose City Park, requested that their buildings be tested this spring.

In both buildings, testing identified between 6-8 sinks and water fountains that had lead levels that exceeded the Environmental Protection Agency's maximum contaminant level (MCL) for lead under the Safe Drinking Water Act. All of these fixtures have been replaced and retested (and two science room sinks are now used only for washing) with final results of retesting expected the week of June 6th.

Portland Public Schools regrets not having notified families and staff as soon as the tests indicated that there were elevated levels of lead. While PPS staff worked quickly to replace all fixtures that indicated elevated levels of lead, we did not turn off the water in those faucets and drinking fountains prior to them being replaced and we should have. The EPA's best practices indicate that once elevated levels of lead are found, those water faucets should not be used for drinking or food preparation until they are replaced and retested. We apologize for not following this protocol.

Going forward, Portland Public Schools will follow the EPA protocols regarding turning off fixtures with elevated levels of lead and will revise our communication procedures for families and staff to ensure that they receive timely notification of any health or safety concerns.

If you would like information on lead testing, please call the Multnomah County Leadline at 503-988-4000 or email at leadline@multco.us. For additional information, the Multnomah County Lead Poison Prevention Program's website is https://multco.us/health/lead-poisoning-prevention.

For other questions, please feel free to call Andy Fridley, Senior Manager of Environmental Health and Safety with Portland Public Schools, at (503) 916-3409 or afridley@pps.net .

Sincerely,

Carole Smith

Superintendent


Tony Magliano

Chief Operating Officer