"I had heard a little ahead of time [about] the stuff that happened at Tribeca and all the rest of it. And I read, with interest, some of the responses that came out."
That's Cinema 21 owner Tom Ranieri, discussing what happened at the Tribeca Film Festival with Vaxxed: From Cover-Up to Catastrophe—a film directed by discredited former gastroenterologist Andrew Wakefield and boasting the tagline "THE FILM THEY DON'T WANT YOU TO SEE."
Following public outcry, Tribeca canceled its screening of Vaxxed—but that hasn't stopped Vaxxed's filmmakers, and anti-vaxxer advocacy groups, from making sure the film plays elsewhere. That includes Portland, where it'll open at Cinema 21 on June 17, with the film's producers in attendance.
After Tribeca, Vaxxed was met with mixed-to-negative reaction. Variety called it a "slickly produced but scientifically dubious hodgepodge of free-floating paranoia, heart-rending imagery... and anti-Big Pharma conspiracy mongering." After calling the film "a biased look at a controversial topic," The Guardian noted, "there's something inherently fishy about a movie that claims our facts are drawn from an inefficient data set which then turns around and uses the same methodology." "There's a lot of sad piano music and distressed parents in Vaxxed," reads the review at IndieWire, "but next to nothing in terms of real science."
I got in touch with Ranieri to see why he decided to book Vaxxed, which claims to examine purported—and widely disproven—links between autism and vaccines.
"I started receiving dozens and dozens of emails, with some of the language cut-and-paste, so I was assuming it was a campaign or effort to get it on the radar of someone in Portland. All of them were requesting that we show it," Ranieri says. "Soon afterwards, I started receiving one or two that were basically like, 'I hope you aren't going to play this.' Then I even had a couple of people who I know say the same thing: 'I hope you're not going to play this movie.'"
"I was curious at that point," says Ranieri, who has made Cinema 21 one of Portland's best-respected theaters thanks to decades of reliable booking, usually of arthouse fare. So he requested a copy of Vaxxed to watch himself. After watching the film and doing some online research, he says, "I kind of get the controversy—why people are pretty emotional, pretty hardcore about their perspective on whether [Vaxxed] should or shouldn't play."
But Ranieri—who made sure to tell me he has "reservations with some of the stuff in the movie," that he doesn't support the anti-vaccination movement, that his kids are vaccinated, and that he "just got a shingles vaccination shot"—believes Vaxxed "isn't anti-vaccine." "I feel, having researched some of this stuff," he says, "it's probably a good thing to have conversations about it rather than categorically suppressing it."
"If the claim is that that showing it will do nothing—as one person wrote to me—but energize the 'ignorant and scared people' that want to see the movie, I think that goes way too far," Ranieri says. "I don't think you can predict, with scientific accuracy, what the benefit of having a conversation will be. I don't know how much light will be shed [by the film], but as you get into it, there are questions asked."
Booking Vaxxed could also prove to be a savvy business decision. After all, this is Portland—a city where, despite overwhelming scientific consensus regarding the safety of fluoride, voters have repeatedly rejected it. And it's Oregon—a state that, despite overwhelming scientific consensus regarding the safety of vaccines, has the highest vaccine exemption rate in America.
"In the movie, they claim there is an epidemic of autism in this country, and I, for one, would like to see what that amounts to," Ranieri continues, "whether it's half true, partly true, full of shit, or a matter of how the autism spectrum is defined and reported. But at every level of this, there are questions to ask, which I think are important ones. And I don't think you do that just by saying, 'These people are scared are ignorant, and you ought not show the film.' The 'ought not' stuff, I'm not a fan of. I self-censored myself a while ago, and I'm not going to do it again."
Ranieri still regrets a decision he "agonized" over decades ago, when he decided not to book Chicken Hawk: Men Who Love Boys, a 1994 documentary about NAMBLA. Ranieri says he was pressured against showing the well-regarded film—despite the fact, he says, that "in that case, it was just a really thoughtful exploration of the subject matter."
"It's a spectrum," Ranieri says, of his decision to show Vaxxed. "It's not 'If you show it, you're this, if you don't show it, you're that.' I think it's more nuanced."
As for how Vaxxed will go over, Ranieri hopes people's strong feelings will be offered constructively. "I hope that when the filmmakers show up, people are civil, and ask questions and talk about it," he says. But he also knows reactions are already divided. "Some people have been very thoughtful and nuanced," he says of the feedback he's gotten for booking the film, "but a couple have been pretty insulting."
As for Ranieri, he feels fine showing the film.
"The questions [the filmmakers are] asking—specifically the action items they request—are all fairly reasonable," Ranieri says. "But everyone will have their own reaction, I'm sure."
Vaxxed opens in Portland on Friday, June 17. Watch for the Mercury's review on Wednesday, June 15.
Sponsored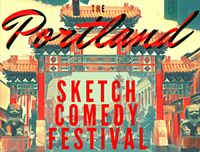 Sketch comedy troupes from all over N. America descend on The Siren Theater for 3 glorious nights.