BURGER WEEK IS COMING. Set aside August 8-August 13, because that's when you're going to be doing little more than cramming burgers into your face.
"BUT WHERE?" you scream. "AND WHO'S GOING TO BE MAKING ALL THESE BURGERS THAT I'M GOING TO CRAM INTO MY FACE?"
Jesus, settle down. Stop screaming. Here's where. And here's who is going to be making all those burgers you're going to cram into your face.
• Alameda Brewhouse
• Alberta Street Pub
• Bar Bar
• Bird + Bear
• Boise Fry Company
• BTU Brasserie
• Burnside Brewing Co.
• Church
• Club 21
• Davis Street Tavern
• Delicious Donuts
• Double Barrel Tavern
• Doug Fir Lounge
• Elephant's Delicatessen
• Fifth Quadrant
• Foster Burger
• Hoda's Middle Eastern Cuisine
• Home
• Iconic
• Kells Brewpub
• Lompoc Tavern
• Migration Brewing Co.
• Next Level Burger
• Nick's Famous Coney Island
• Noraneko
• Portland Penny Diner
• Rialto
• Slowburger
• Smak Dab's
• Smallwares
• Spirit of 77
• Triple Nickel
• White Owl Social Club
• Widmer Brothers Pub
•Ya Hala
HOT DAMN. (Shit. Now I'm screaming.) Anyway, more on Burger Week 2016 as it develops—including previews and pics of each and every one of those burgers. In the meantime, RSVP on our Burger Week 2016 Facebook page to see what everyone is saying about Burger Week!

Sponsored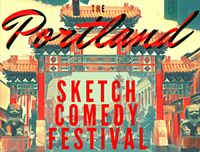 Sketch comedy troupes from all over N. America descend on The Siren Theater for 3 glorious nights.