Sponsored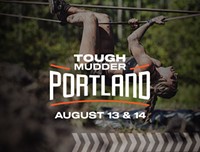 Lock in your summer adventure, Portland. Join us for world famous obstacles over a 5K or 10K distance.
Voicing the strongest misgivings we've heard about a comparatively lenient stance on homeless camping he introduced in February, Mayor Charlie Hales formally announced today he's planning to clear out homeless camps along the Springwater Corridor next month.
A press release issued this morning says that social workers will begin giving notice next week that sites along the path will be cleared beginning August 1. That news was first reported by the Oregonian.
"Once the area is cleaned, signs will be posted notifying people that camping is not permitted, and that camps that may appear will be removed," the release says. "Police estimate several hundred people will be displaced from the trail."
The move has been a long time coming. While Hales' office unveiled a controversial "safe-sleep policy" that allowed homeless camping in certain instances months ago, it specifically treated the thorny tangle of camps along the East Portland multi-use trail as a separate issue. The city has been working with a mediation group, Oregon Consensus, and other governments to try to arrive at a strategy for cleaning environmentally sensitive property off the trail. As we've reported, the city has also taken tentative steps toward establishing at least one camp nearby (on contaminated property).
But Hales tells the Mercury that the situation on the trail has worsened to the point the city must act.
"People don't think it's safe to be on a community trail," Hales said this morning. "That's not okay." He added that "camping in large groups tends to allow behavior that's unacceptable. There have been increasing problems, including victimization of some of the people who live there."
The mayor concedes it's unclear where the hundreds of people living along the Springwater will go. Some might find space in a new, 200-person shelter being created at NE Glisan and 122nd, but that's designed to replace shelter space being eliminated downtown.
"Some of those people are going to go to shelter," Hales said. "Some of those folks are going to camp elsewhere, and hopefully do so in a way that has less impact that what we've seen along the Springwater."
Perhaps most striking, the mayor is conceding that his safe-sleep policy—subject of a lawsuit by business and neighborhood interests—hasn't panned out as planned.
"It has not succeeded as we hoped—in part because the problem has overwhelmed the policy," Hales said. "There aren't enough police or park rangers or Clean and Safe officers downtown or Clean and Safe districts in this city."
The mayor says the policy is "still a good idea." And he thinks it's having an effect in parts of the city where homelessness is less concentrated. "Perhaps when the scale of the problem is more manageable we can tune it and make it work as it was intended," he said.
Given that sentiment, just what will happen when hundreds of people are no longer allowed to sleep near the Springwater Corridor is an open question. More basically, though, it's hard to imagine the city will be able to eliminate camping along the path. People have been living there since well before the city enacted a housing and homelessness emergency last fall, and past sweeps have only pushed them down the path.
Hales says much of the effort of keeping homeless campers away will fall to the city's park rangers, but he says the police will be called in when that fails.
Tim Crail, chief of staff to Parks Commissioner Amanda Fritz, tells the Mercury his office is still looking into ranger capacity for that effort, "but generally, yes we expect that rangers will better be able to enforce Parks' policies on the Springwater Corridor once the clean-up occurs."
Commissioner Nick Fish didn't respond to a request for comment. Fish oversees the Bureau of Environmental Services—which controls environmentally sensitive land up and down the trail—and has frequently voiced concern about camps.
It's unclear exactly how many people live along the trail. Willamette Week recently estimated the number could be as high as 500, though that number would be split among many discrete camps if it's accurate, and not all of them would be within Portland city limits.
For an idea of who's living along the trail, check out the results of a recent survey [PDF] carried out by Clackamas County employee (and frequent advocate for the homeless) Vahid Brown.
Sponsored
Virtual Auction Event & Drag Queen Fashion Show. You won't want to miss this show!