Portland may be the whitest big city in America, but unlike Seattle, its black population is not declining sharply. In fact, The Oregonian claims that "the number of black Portlanders increased 4 percent between 2000 and 2010" and the "metro area had nearly 5,000 black-owned businesses in 2012, a 42 percent increase over five years." So, though the city is very white, and getting whiter every day, it is not all bad news for blacks. The post does a lot of white soul searching. It claims that there is a ton of white guilt about the increase in housing prices. That guilt is understandable because in 2015 the Portland Housing Bureau found that there wasn't one Portland neighborhood that had a two-bedroom apartment that an "average African American can afford." Not one.
The post also makes a great comment about IFC's Portlandia, a popular comedy show that made lots of fun of the habits and schemes of white liberals and hipsters. Tellingly, many of the shows "iconic sketches took place in historically black areas." But black people are not in one of those sketches. Not one.
Sponsored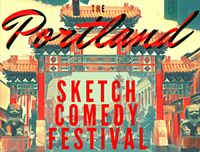 Sketch comedy troupes from all over N. America descend on The Siren Theater for 3 glorious nights.