The director Tim Burton has finally explained why there are no black people (or people of color) in almost all his films. It's not that he dislikes blacks or anything like that, but, let's face it, he makes films about white people, the things white people like to do, and the places white people like to live. Now if he just dumb plops people of color in his pictures, it will ruin the authenticity of this vision.

I asked Tim Burton about the lack of diversity in 'Miss Peregrine's. Here's his excuse. https://t.co/Ez2mA69O2f pic.twitter.com/nOT1umIoUl
— Rachel Simon (@Rachel_Simon) September 29, 2016
Think about it. Would Edward Scissorhands look realistic if he cut a black woman's hair in the famous hair-cutting scene that involves white suburban housewives? No.
Burton wants us to know that diversity has its limits and no place in his perfectly white fantasy worlds. Speaking of Tim Burton, check out this review of
Miss Peregrine's Home for Peculiar Children.
Sponsored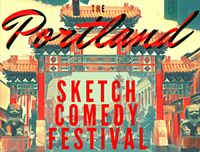 Sketch comedy troupes from all over N. America descend on The Siren Theater for 3 glorious nights.