A vote over a much-derided contract [
PDF
] with the city's largest police union isn't scheduled until tomorrow, but City Hall will be locked today.
Sponsored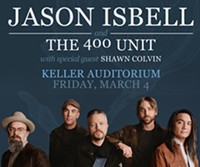 Jason Isbell has established himself as one of the most respected songwriters of his generation. Don't miss Jason Isbell and the 400 Unit, March 4th at Keller Auditorium!
In advance of a planned protest of the contract by Don't Shoot Portland and other groups this afternoon, Mayor Charlie Hales' office says the center of Portland governance will shut down to the general public beginning at 1 pm, according to mayoral spokesperson Brian Worley.
Don't Shoot Portland had sent word it planned to begin a protest at 3 pm today, and would remain at City Hall all night. That follows weeks of unrest over the proposed contract (and a related "tentative agreement") with the Portland Police Association.
The deal would raise officer pay by 9 percent and does away with a controversial provision giving cops 2 days after a shooting to speak with internal affairs investigators. That rule has long been a target of police accountability advocates, but since the deal was announced, many have called for more oversight of police. Hales has forcefully defended the contract, saying it marks progress and will help correct a police staffing shortage.
The agreement also touches on a draft police body camera policy many are concerned by.
There's not much chance tomorrow's vote to ratify the contract will occur without incident. Two weeks ago, advocates and activists packed City Council chambers to voice unified dissatisfaction with the deal Hales had crafted. They want the new contract delayed until Mayor-elect Ted Wheeler takes office.
Last week's city council hearing on the contract—scheduled as more or less a formality to adopt an amendment—was even more fraught. After repeated outbursts and activists' refusal to leave, Hales canceled the hearing. He rescheduled it for the following day, but wouldn't allow the general public into council chambers for the contract matter. That led to a situation where activists attempted to criticize Hales' handling of the police deal under the guise of testifying on an item about a bridge inspection crane. #bridgecrane was born.
After the meeting, activists raised concerns that Hales took agenda items out of order without a vote of council, which appears to violate city policy. Portland Copwatch also argued that the public wasn't given a necessary 24-hour notice before the rescheduled hearing (it was just under that, by Copwatch's count).
It's unclear if Hales plans to similarly shut out the public from tomorrow's vote, which as of last week was expected to come out in favor of the new contract. City Attorney Tracy Reeve has argued state law doesn't demand that City Council hearings offer public comment, and that it satisfies state law to stream a live video feed of hearings into a public building, as opposed to allowing citizens to view it in person. Even if that's the case, that's a marked departure from Portland's normal process.
Update, 11:20 am: The mayor's office says tomorrow's meeting will be open to the public.
Original post:
In a release last night, Don't Shoot Portland accused Hales of tamping down dissent.
"The mayor's office has gotten word of our protest and has begun the usual tactic of silencing black and brown voices in regards to policing," the statement read. "We at Don't Shoot Portland believe that locking the public out of our own building and then calling it business as usual is outrageous."