Voters waiting in line to cast their ballots near Multnomah County Election Division headquarters this afternoon got a rude shock.
Sponsored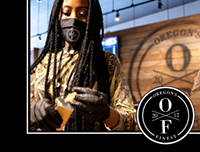 Oregon's Finest has great deals on cannabis gifts with curbside pickup & FREE delivery!
According to one eyewitness, a Multnomah County Sheriffs deputy in a vehicle marked "Sheriff" rolled past a line of voters near SE Morrison and 11th chanting "Vote Trump" from his car. The Multnomah Count Sheriff's Office says it's aware of the incident, and has identified the deputy in question.
"The inappropriateness has been addressed," says Lt. Chad Gaidos, spokesperson for the sheriff's office. "An Internal Affairs investigation has begun."
Pat Moran (a longtime friend of the Mercury) said he was standing in line waiting to drop his ballot this afternoon when a deputy rolled by pumping his fist and chanting his support for Trump from his car's PA system.
"I said, 'I'd like to make a complaint,'" Moran says. He says elections officials told him they had it "under control" but that he insisted filling out a complaint form anyway.
Another eyewitness, Matthew Ross, says the deputy was just chanting "Trump!" as he passed. "There were probably 50 or 60 people in line," he says.
Multnomah County Elections Director Tim Scott tells the Mercury he's also aware of the incident, but he says he doesn't believe it violates Oregon law. State law says "a person may not do any electioneering by public address system located more than 100 feet from an entrance to the building if the person is capable of being understood within 100 feet of the building."
But Scott tells the Mercury that a recent court opinion found that the law infringed on the First Amendment. And he says the fact that the deputy was rolling past, as opposed to standing, makes him doubt it's enforceable anyway.
The Oregon Secretary of State's Office points out that another law says public employees cannot "promote or oppose the nomination or election of a candidate... while on the job during working hours." Violating that law rarely carries much of a penalty, though.
"Certainly it is a cause for concern," says Molly Woon, spokesperson for the Secretary of State's Office. Woon says the office will contact Multnomah County to see if any formal complaints have been filed on the incident, since investigations are typically complaint-driven.
It's unclear whether the deputy, whom Gaidos would not identify, violated any county rules.
Moran says he didn't see any voters swayed by the deputy's chanting.
"It didn't change anyone's mind," he says. "Nobody was like, 'Oh right that guy. I was undecided until now.'"
It's worth pointing out that Multnomah County Sheriff Mike Reese is running unopposed today to fill out the term of former Sheriff Dan Staton. Portland activist Teressa Raiford mounted a write-in campaign for the office late last month.
Mercury reporter Doug Brown contributed to this report.