A full two days after what by all accounts was a pretty mild snowfall, Portland's roads and sidewalks are still in pretty horrible shape. Our current unusually low temperatures haven't ventured much above freezing since Wednesday's snowfall, and what has melted so far has refrozen into slick ice overnight.
Here's some not-great news: These lower-than-normal temperatures are expected to continue through January, according to a national forecast released today by the Weather Company and posted on weather.com. "January 2017 may be colder than average in the Northwest, while parts of the central and eastern states see a January thaw," writes Brian Donegan, attributing the trend to the phenomenon of La Niña, which keeps the Pacific Ocean waters cooler. He cites the Weather Company's chief meteorologist, Dr. Todd Crawford, who says: "All indications are that the Pacific Northwest is at highest risk for a cold January given the La Niña base state." Donegan's report also says that "colder-than-average temperatures are expected to continue in the Northwest into February and March."
While the report doesn't say much about our extended precipitation forecast, one can only conclude that this means that this winter—already snowier-than-usual winter for Portland—will continue to experience more snow and ice than we're used to. Goody.
Judging by Wednesday's traffic calamity and the continued presence of very slick ice and compacted snow on most city roads, this seems like an obvious reason for concern. Our shortage of snow plows and the fact that we don't salt our roads due to environmental concerns could lead to more dangerous conditions as the winter progresses—and at the very least, it will prolong the presence of ice on our streets whenever it does accumulate.
PBOT has a thorough plan for snow and ice situations, which you can read here. Since financial reasons make it difficult for the city to invest in a larger fleet of snow plows, I wonder if there might be another possible solution: Some sort of program in which PBOT or ODOT incentivizes businesses and private citizens who already drive trucks—contractors, tow-truck drivers, garbage collectors—to invest in attachable plows for the front of their vehicles (like those shown here). These truck drivers could then be contracted, in large numbers and at a very good price, to quickly clear our smaller streets right as the snow hits the ground, removing the snow and ice before it has a chance to compact and adhere to the roads. Drivers would make extra money and the city wouldn't grind to a halt over an inch or two of snow.
I don't know if this is a feasible solution, but as Icepocalypse Y2K16 keeps students and workers at home for yet another day, it might be worth thinking about.
Sponsored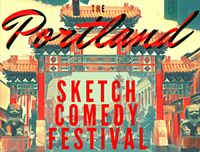 Sketch comedy troupes from all over N. America descend on The Siren Theater for 3 glorious nights.