Not long after her victory over Steve Novick, now-City Commissioner Chloe Eudaly made a pledge.
Sponsored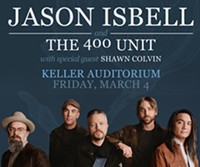 Jason Isbell has established himself as one of the most respected songwriters of his generation. Don't miss Jason Isbell and the 400 Unit, March 4th at Keller Auditorium!
In a November 18 speech about the frustrations and insecurity she'd felt as a cost-burdened renter, Eudaly vowed to send landlords a message when she got into City Hall.
"I'm currently calling on the current council to call an emergency rent freeze and pass a resolution demanding that the state overturn the ban on rent control and return our regulatory tools," Eudaly said at the time. "If no action is taken, I will be pursuing those options in January."
Now it's January, and in the hectic and snow-ravaged weeks she's been in office, Eudaly's come to a conclusion: That rent freeze isn't going to happen—at least not at the city level.
"We are absolutely walking away from the rent freeze conversation," the commissioner said today. "I'm not going to be pushing the matter."
Which isn't the same as saying that Eudaly is abandoning renters' rights, her signature campaign platform. She still supports progress toward rent controls at the state level. And in what promises to be a dramatic hearing next week, Portland City Council will take up a new proposal—introduced by Eudaly and Mayor Ted Wheeler—to force landlords to pay renters' relocation costs when they issue no-cause evictions or raise rents by 10 percent or more.
Still, the pivot is a sign that Eudaly's adjusting to the political realities of City Hall, where the city's attorneys have argued a rent freeze is an unquestionable violation of Oregon's state pre-emption on rent control, and so destined to fail in court.
Eudaly said today that the central argument for a freeze—that it's allowed under a "man-made disaster" provision built into the state law—has slackened a bit of late as new housing has come online. That's not an opinion shared by Portland Tenants United, the renter advocacy group that's been closely aligned with the commissioner.
"We definitely have not come to that conclusion," says Margot Black, a PTU founder and organizer. Should the renter relocation ordinance fail—either at the city council level or in court—Black says her group will double down on its calls for a rent freeze.
The ordinance council will consider Thursday is in line with policies PTU has been pushing for months. Under the rules, when landlords evict tenants without a specific cause, they'd be on the hook for relocation expenses that depend on the type of dwelling unit:
•$2,900 for a studio or single room
•$3,300 for a one-bedroom unit
•$4,200 for a two-bedroom unit
•$4,500 for a three-bedroom unit or larger
Those same costs would apply if a landlord raises the rent by 10 percent or more, spurring a tenant to move out.
Eudaly and Wheeler have filed the ordinance as an emergency, meaning it would go into effect right away if it's passed unanimously by council next week. But it might soon be tangled up in court.
Like a rent freeze, the legislation appears likely to be lawsuit fodder. John DiLorenzo, an attorney for the landlord group Multifamily Northwest, said earlier today he couldn't absolutely guarantee a court challenge, but that it would be his preference to file one should the law pass.
DiLorenzo argues forcing landlords to pay relocation costs for a rent increase is plainly rent control. He concedes that using no-cause evictions as a trigger is a legal gray area—state attorneys have written opinions that seem to cut both ways, he says.
"No-cause evictions are more often than not used as a tool to protect the rest of the community," DiLorenzo says, in a certain preview of next week's hearing.
The arguments that council will hear on Thursday come at an emotional time in this city—with the deaths of at least four homeless residents in the recent cold snap, and with ugly stories of enormous rent increases emerging all the time.
As Wheeler and Eudaly's ordinance notes, nearly half of Portland residents are renters, and more than half of them are cost-burdened (that is, paying more than 30 percent of their monthly income on rent). Portland's just come off four consecutive years where average rents increased by 5 percent, according to the Portland Housing Bureau. They're up an average of 30 percent since 2012.
Eudaly said today she'd first envisioned a stricter law, which would have mandated relocation payments for rent increases of five percent or more. She acknowledges one outcome of her proposal could be a flourish of 9.9 percent rent increases around the city. "That's a rather petty response, and unhelpful," she says.
DiLorenzo, meanwhile, is asking for time. He says city council should hold off, and craft a law that doesn't invite "unintended consequences." But Eudaly feels a sense of urgency, and she doesn't foresee her proposal being fundamentally changed by next week's hearing.
"I don't think there are any issues or scenarios that are going to be brought to the session that we haven't heard or thought of," she said, adding: "We certainly wouldn't have filed it as an emergency if we didn't think there was a pathway to 'yes.'"