Here come the rain drones.
As Portland braces for what might be inches of snow and accompanying freezing rain in the next few days, city officials this afternoon rolled out a number of new steps they're prepared to take to ensure the city isn't once again locked in ice.
Most prominently, Transportation Commissioner Dan Saltzman and Bureau of Transportation Director Leah Treat announced the Portland's going to dip its frosty toes even further into the use of road salt to combat ice. PBOT's purchased 100 tons of salt for around $20,000, Treat said. But the chemical, which Portland experimented with a bit last month, will have limited use. PBOT's only planning on using it on stretches of North Going, Southwest Terwilliger, and Southeast 112th, Saltzman said—necessary and troublesome routes in winter storms.
In announcing the move, Saltzman indicated officials believe salt will work better than the magnesium chloride solution Portland typically uses, considered by officials more environmentally friendly than road salt.
"We're assuming it will have a positive impact," Saltzman said. "We will not use salt where it could directly impact our environment."
The city's also expanding the roads it prioritizes for plowing, adding 340 more "lane miles" to the existing 1,120 on the city's normal snow routes. The added roads will be school bus routes, Saltzman said.
And as Mayor Ted Wheeler promised in mid-January, Saltzman says he'll look to reach formal agreements for using Seattle's plows during rough weather. PBOT will also explore contracting with the private sector, and even pursue outfitting Portland Water Bureau dump trucks with plows in the future.
But what no one talked about at the press conference were the drones.
As part of a $2.8 million request in next year's budget, PBOT is seeking $12,000 to purchase two drones "for evaluating landslides and floods."
PBOT spokesperson Dylan Rivera says that's a first-of-its-kind purchase for the agency, but that the drones would be helpful in analyzing hazards in real time. Also included in PBOT's budget ask? "Covered storage units" that could be used to store road salt, should the city decide to make a habit out of these experiments.
Other items in the budget ask:


- $342,000 for a grader that will allow PBOT crews to clear hard packed snow from the pavement on critical public safety routes. This will provide a different level of service from snow plows, which only plow to about 1 inch above the pavement.

- $50,000 to convert two six yard dump trucks into de-icing vehicles.

- $12,000 for two aerial drones for use in evaluating landslides and floods;

- $45,000 for three covered storage units to store different de-icing materials such as road salt

- $200,000 for eight drop in sanders/salters to expand de-icing and sanding capacity;

- $100,000 for four fixed, electronic variable message signs to better communicate traveling conditions to the public;

- $120,000 for eight portable, electronic variable message signs to better communicate traveling conditions to the public;

- $45,000 for a fixed camera on West Burnside for timely response to travel hazards, including the need for traction tire requirement;

- $150,000 for two additional storage tanks for anti-icing liquid;

- $150,000 for six new plow blades to attach to de-icing trucks.
PBOT also hopes to get funding for the equivalent of five full time positions, in order to staff up for rare winter storms. Here's the full announcement of the changes.
Today's announcements are a clear response to the outrage many Portlanders felt when heavy snow and unremitting cold left many city streets impassable—or at least nerve wracking to traverse—for a week, and led to nine missed days of school.
Saltzman and Treat stopped short of promising the outcome of the coming storms will be better than the last round, but are confident their latest stratagems should help.
"Even road salt is not a silver bullet," Treat noted.
"None of it," Saltzman said, "is a substitute for drivers using good judgment."
Sponsored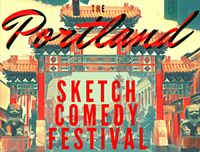 Sketch comedy troupes from all over N. America descend on The Siren Theater for 3 glorious nights.